Red Sox News: MLB prefers teams playing in home parks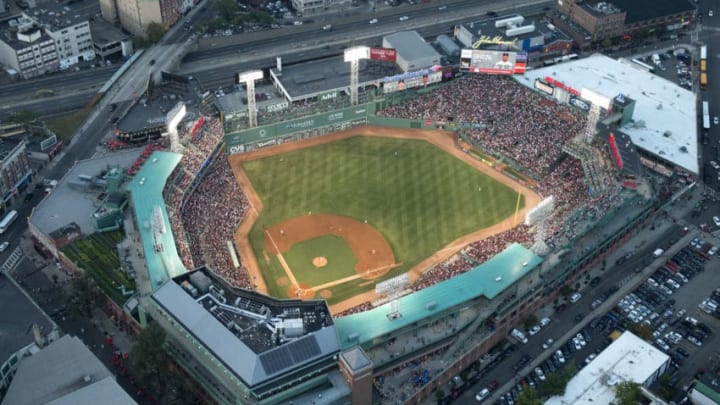 BOSTON, MA - JULY 29: General aerial views of Fenway Park during a game between the Boston Red Sox and Chicago White Sox in Boston, Massachusetts on July 29, 2015. (Photo by Michael Ivins/Boston Red Sox/Getty Images) /
Major League Baseball's preferred plan may allow the Boston Red Sox to play their home games at Fenway Park once the 2020 season begins.
There is growing optimism that the Boston Red Sox will be playing games at Fenway Park in 2020, even if they have to do so without fans in attendance.
According to the Tampa Bay Times, MLB's preferred plan would be to start play in late June or early July with as many teams as possible playing in home parks while competing in their regular divisions with an abbreviated schedule of at least 80 games.
MLB has explored several scenarios, including ones that would seclude all 30 teams in Arizona or split them up in two states based on where their spring training facility is located. They also kicked the tires on the idea of splitting teams up into a few designated "hub" cities and realigning divisions based on geographical location.
While we can admire the creativity in these plans, they all come with obstacles that MLB would prefer to avoid. The ideal solution would be to let teams play in their own ballparks so that they could remain at home with their families during homestands rather than be sequestered in a hotel for the entire season.
Several issues would need to be settled before MLB can begin implementing their preferred plan, not the least of which is ensuring that they can open the season without risking the health and safety of the players, coaches and everyone else involved. Most of the country is currently enforcing strict social distancing practices, including Massachusetts. The timeline for the country reopening will be critical to dictating the league's plans.
The Toronto Blue Jays, who reside in the same division as the Red Sox, face a steeper challenge in hosting games at their own park while the Canadian border remains closed. Canadian Prime Minister Justin Trudeau told the Associated Press that players would need to follow quarantine protocols if they were to arrive in Canada while the border remains closed due to the pandemic. He was referring primarily to the NHL, which has several teams located in Canada, but the same rules would apply for the country's lone MLB team.
The schedule is another factor that needs to be addressed. A late June or early July start doesn't leave time for a full 162-game season, which means we won't be following the original 2020 schedule.
MLB could realign the schedule based on their divisions in order to limit travel. That would force the Red Sox to compete against teams from the AL and NL East divisions. Competing against the powerhouse Yankees and Rays for a higher percentage of the schedule while introducing more games against the reigning champion Nationals and defending division-champion Braves would create a stiff challenge for Boston.
Limiting the Red Sox to playing only teams in the two East divisions doesn't do enough to satisfy the need to reduce travel. Several Central division teams, including Chicago, Cleveland, and Detroit, are far closer to Boston than Tampa Bay or Atlanta.
MLB has plenty of details to hash out in order to create a new schedule while maintaining competitive balance and adhering to medical and state government policies.
Despite all these hurdles, the league remains confident that at least part of the season can be salvaged. For weeks we were fed various solutions that could have locked the Red Sox in Arizona, Florida or another location that would still be far from home. For the first time since the season was shut down, MLB seems to be pushing for a solution that would allow as many teams as possible to open the season in their own ballparks.
This plan is far from certain but the insistence that this is the preferred plan is a positive sign that this season might end up being a bit more normal than we expected.