Red Sox: Dennis Eckersley isn't getting ahead of things with June start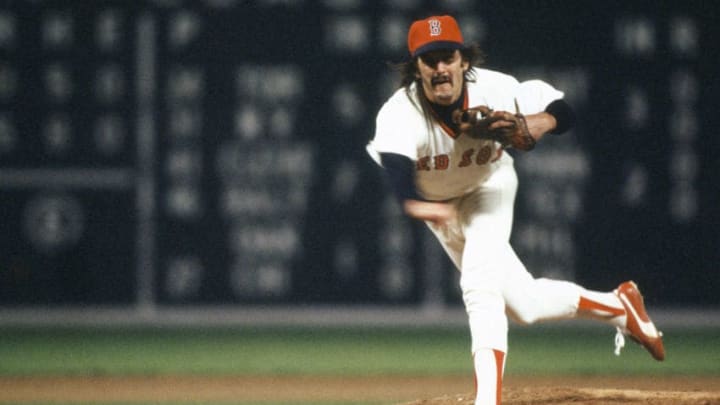 BOSTON, MA - CIRCA 1978: Pitcher Dennis Eckersley #43 of the Boston Red Sox pitches during a Major League Baseball game circa 1978 at Fenway Park in Boston, Massachusetts. Eckersley played for Red Sox from 1978-84 and 1998. (Photo by Focus on Sport/Getty Images) /
Boston Red Sox legend Dennis Eckersley was a recent guest on NESN After Dark and was honest that he won't be counting on a June start as has been rumored.
We're now officially into May, Red Sox Nation. By now, the season is usually beginning to heat up and teams like the Orioles and Marlins are close to elimination. However, as the coronavirus is still running rampant throughout the world we're no closer to Opening Day. Though the league has offered some whispers for a looming solution to the issue.
Over the last few weeks, we've heard rumors about the season being played solely in Arizona. Then the season was going to be split between Arizona and Florida similar to spring training. Finally, this past week a new wrinkle was thrown into the mix, and teams may actually be able to play in their home parks. The latest rumored plan would destroy the MLB infrastructure as we know it and a new three-division league would be born.
On a recent episode of NESN After Dark, Red Sox legend Dennis Eckersley gave his opinion on the matter and made it pretty clear that he'll believe it when he sees it.
""For me, I'm sitting here like everybody else and I'm trying to be positive but this is a matter of being fake pumped," Eckersley said."
In true Eck fashion, he was blunt and straight to the point but I don't see a single word of his thought that I disagree with. As much as we want baseball back as it brings a heavy dose fo normalcy back to life, these rumors are coming too hot and heavy right now. It feels like there are building blocks of plans or foundations of ideas, but nothing has been thought through. We may have a floor and some walls, but we don't have a roof and it's raining.
I'm in the same boat as Eck in that I want to believe that we're going to see some form of a 2020 season this summer but these ideas that keep getting leaked just feel like false hope. None of what has supposedly come from the league really feels tangible and that it could be spoken into reality. Of course, every time I see another report I get a bit excited that we may see the Red Sox playing at Fenway soon.
It's great to see that the league is trying to figure out a way to give these athletes, organizations, and fans some baseball, but until we get COVID-19 under control, this just isn't going to happen. For MLB Commissioner Rob Manfred to give the green light for some games to be played, there need to be some serious measures taken for the safety of all involved.
""We're going to get fake pumped about 10 more times. Am I supposed to give into this saying, 'Oh this is a new division, this and that.' Whatever happens, this is going to be a strange season," Eckersley added."
There are days were my positivity is through the roof and it feels like we may be getting back to something that resembles what life used to be like, and other days it feels like we may never get back to normal. I think this is why I gravitated to hard to what Eckersley said because he hit the nail on the head. We're going to keep getting our hopes up and trying to be positive but for all we know, we're nowhere near the end of this thing.
More from Red Sox News
As far as the new divisional breakdown, I absolutely love that idea. Want to know why? It'll give the Red Sox a chance to also play the Marlins and Pirates, as well as the inconsistent Mets and Phillies. They'd essentially be able to use the former NL East to balance out what has become an incredibly challenging AL East.
I'm not sure if or when baseball will return in 2020, but for the Red Sox sake, it needs to. Their big move this winter was to offload contracts of Mookie Betts and David Price in an effort to reset their CBT penalty marker. If there isn't a season, then it was all for not and they're still in the Luxury Tax doghouse for 2021. If we do see a good portion of the season played out then that slate gets wiped clean and Boston can spend ahead of 2021.
It's tough to think of baseball in a time like this, but it also feels necessary. There's so much uncertainty going on in the world right now that having just the smell of the grass, the crack of the bat, and the pop of a ball hitting the catcher's mitt is sorely missed. Baseball has always been known as America's pastime, but right now, it may be just what the world needs as well.