Boston Red Sox: My all-time favorite short-tenured players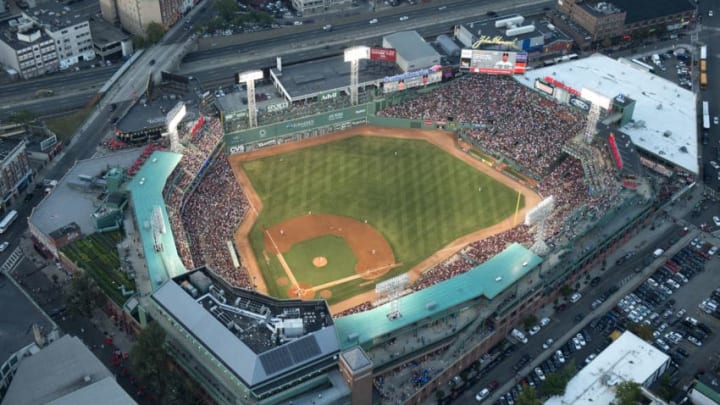 BOSTON, MA - JULY 29: General aerial views of Fenway Park during a game between the Boston Red Sox and Chicago White Sox in Boston, Massachusetts on July 29, 2015. (Photo by Michael Ivins/Boston Red Sox/Getty Images) /
BOSTON, MA – AUGUST 23: Cody Ross #7 of the Boston Red Sox trots around first base against the Los Angeles Angels of Anaheim during the game on August 23, 2012 at Fenway Park in Boston, Massachusetts. (Photo by Jared Wickerham/Getty Images) /
In right field, is none other than Cody Ross. Ross played all over the outfield during his career, but luckily for me, mostly in RF for the Red Sox in his sole season in Boston in 2012.
I think I had to be one of Cody Ross' biggest fans. I don't know what it was with me as a kid always buying the shirt or jersey of the one or two year Red Sox players like Ross. After Ross' short season in 2012, I didn't know what to do with the jersey, so in 2013 I morphed the 7 into a 3 with duct tape for catcher David Ross.
The moment that made me the biggest Cody Ross fan was his walk-off home run in mid-July against the White Sox, a game that I was at. I'll never forget the towering bomb he hit while sitting on the first base side to win the game for the Sox. 
Also, Ross always had the slickest eye black as you can see above, and he wore high socks. That's my kind of style.
Although that infamous 2012 team was quite awful, Ross was pretty darn good, one of the best seasons of his career. He hit 22 home runs and had 81 RBI's, some of the best numbers of his career. As a fan, there's some moments you never forget, and being at the game when Cody Ross hit a bomb towards the light tower was one of those moments for me.