Boston Red Sox: My all-time favorite short-tenured players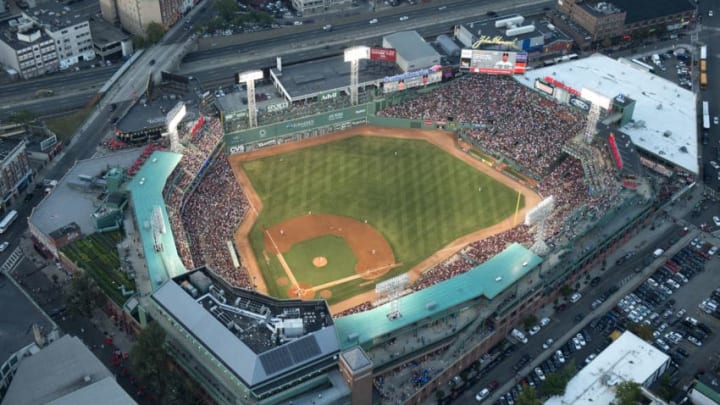 BOSTON, MA - JULY 29: General aerial views of Fenway Park during a game between the Boston Red Sox and Chicago White Sox in Boston, Massachusetts on July 29, 2015. (Photo by Michael Ivins/Boston Red Sox/Getty Images) /
KANSAS CITY, MO – SEPTEMBER 24: Jason Bay #44 of the Boston Red Sox swings at the pitch during the game against the Kansas City Royals on September 24, 2009 at Kauffman Stadium in Kansas City, Missouri. (Photo by Jamie Squire/Getty Images) /
On to the outfield. Left field is another tough one, but I've decided to go with Jason Bay. Bay was traded in the middle of 2008 to the Red Sox as part of the Manny Ramirez trade and played with them for the rest of '08 and the full '09 season.
Bay had his best career year in Boston in '09, slashing .267/.384/.537 with 36 home runs and 119 RBI's. This was good for 3rd in the AL in HR's and 2nd in RBI's. Jason Bay out of all players!
He was awesome on the Red Sox. I loved him and of course had a No. 44 Bay shirt by the beginning of 2009. He was kind of a plain and simple guy, didn't seem to have much personality, but it was fun to watch him at the plate with that almost shortened swing and all of those home runs over the monster, one coming against Mariano Rivera in the ninth to tie the game against the Yankees.
His career went super downhill after that point, leaving fans to wonder how he would've done with the Red Sox had he taken their $60 million offer and been able to hit home runs over the towering Green Monster. He produced while he was here, and you gotta love a guy who can produce, achieving an All-Star selection and a Silver Slugger while donning a Red Sox uniform.