Boston Red Sox: My all-time favorite short-tenured players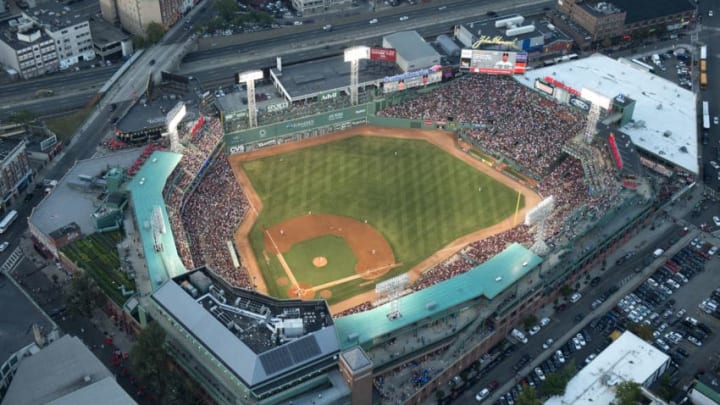 BOSTON, MA - JULY 29: General aerial views of Fenway Park during a game between the Boston Red Sox and Chicago White Sox in Boston, Massachusetts on July 29, 2015. (Photo by Michael Ivins/Boston Red Sox/Getty Images) /
NEW YORK, NY – AUGUST 19: Adrian Gonzalez #28 of the Boston Red Sox at bat in the first inning against the New York Yankees at Yankees Stadium on August 19, 2012 in the Bronx borough of New York City. (Photo by Jason Szenes/Getty Images) /
Now first base is a tough one. I've run through multitudes of options because there are so many perfect players that fit my criteria for this pick. But after long and hard thought, I've decided to go with Adrian Gonzalez.
Gonzalez was one of my favorite Red Sox players back in 2011 and 2012, the big, power hitting lefty. There was something about his swing; the big kick and the one handed finish at the top.
Everyone loves a home run hitter, and that's what he was. In his first year with the Sox in 2011, he hit .338/.410/.548 for 27 home runs and 117 RBI's and led the league with 213 hits. He had an unbelievable season. Only Gonzalez, Ted Williams and Jimmie Foxx have had that high of a batting average with that many home runs and RBI's in the same season for the Red Sox.
He wasn't just a superb talent at the plate; he was also a phenomenal fielder. Along with a Silver Slugger award in the 2011 season, Gonzalez also brought home a Gold Glove award at the first base position, the third of his career.
Gonzo was a fun player to have in a Red Sox uniform. I, in fact, bought a Gonzalez jersey back in 2011 because I liked him so much. But the Red Sox unfortunately traded him away in a blockbuster deal in the middle of the season in 2012, to my displeasure.