Boston Red Sox: My all-time favorite short-tenured players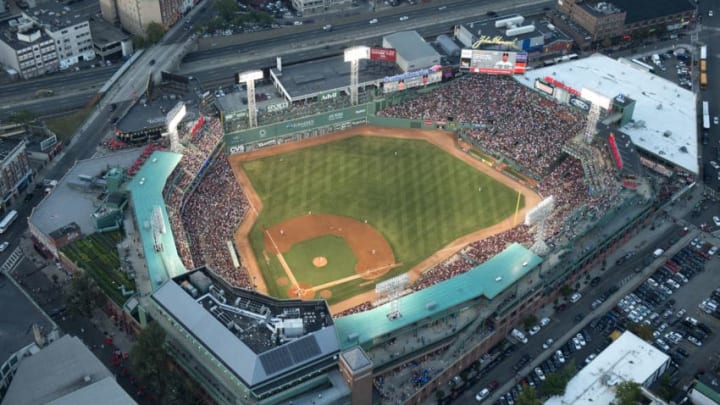 BOSTON, MA - JULY 29: General aerial views of Fenway Park during a game between the Boston Red Sox and Chicago White Sox in Boston, Massachusetts on July 29, 2015. (Photo by Michael Ivins/Boston Red Sox/Getty Images) /
BOSTON, MA – JUNE 14: Pitcher David Wells #16 of the Boston Red Sox delivers a pitch against the Cincinnati Reds during the game at Fenway Park on June 14, 2005 in Boston, Massachusetts. The Red Sox won 7-0. (Photo by Jim McIsaac/Getty Images) /
It's hard to select just one pitcher for this lineup because there are so many that fit my criteria, but I've decided to go with 2005 and 2006 Red Sox member David Wells. I actually decided on him before this supposed twitter beef between him and Curt Schilling arose, when a fan asked him who was a generally disliked player in his era, and he responded with Curt Schilling, who then made a snide comment back.
I liked Wells primarily because he was on my Red Sox 2005 Monopoly set, and I thought he was funny looking as any five-year-old would. Wells is a pretty unique looking player. He's a big, burly guy with more hair on his face than his head with that iconic circle beard. The big lefty pitcher is a sight to see.
Wells played for a whopping 9 teams in 21 years, a long and steady career. He was a 15-game winner in 2005, going 15-7 with a 4.45 ERA.
I was scouring YouTube watching videos of Wells pitch, and it's almost identical to CC Sabathia of the Yankees. Strikingly odd similarities in the way they pitch.
Anyways, that's my favorite short-tenured Red Sox players list by position. It was a fun list to make. Let me know some of your favorites or if we share some of the same.