Boston Red Sox Prospects: 2020 Will be the Year of C.J. Chatham
The 2020 regular season is almost upon us. So it's time to talk about which Boston Red Sox prospects have big things in store for the upcoming campaign.
C.J. Chatham has found a way to be one of the top prospects in the Boston Red Sox system while simultaneously being one of the most underrated prospects in the baseball world. Imagine that, being one of the top prospects in one of the most popular organizations in baseball, and still not getting the respect you deserve.
Chatham is a sure-handed shortstop with a serious bat. And no one is talking about him.
With that in mind, why would 2020 be the year of Chatham? I'd love to tell you.
The Red Sox are in a weird spot when it comes to second base. Dustin Pedroia's career is coming to an end, as injuries are sadly piling up. Meanwhile, there isn't a clear answer for the immediate future.
Michael Chavis isn't really a second baseman. It's unlikely they'll want to play him there. And Jose Peraza has a glove, but his bat is severely lacking, posting just a .285 OBP last season.
Jonathan Arauz is still just 21 and has tons of upside. He has a career .243/.317/.363 slash line in the minors though. So asking him to take over that responsibility now seems a little unfair.
What about C.J. Chatham though? Chat is a shortstop by trade. So he might not be the first option to a lot of people. He spent some time at second base last season though, which means the Red Sox are thinking along the same lines as me here.
Chatham was drafted in the second round back in 2016. Due to that, it's pretty safe to assume there were pretty high expectations for the infielder. He didn't get to meet them immediately though, as injuries riddled the beginning of his career. Chatham appeared in just seven games in 2017.
The last two seasons have been incredible for the shortstop though. Including a 2019 season that saw him hit .298 between Double-A and Triple-A. With that average came a career-high in doubles (31) and home runs (5), while posting his second-most runs scored (50) and RBI (46) of his career.
As I already said as well, 2019 also saw Chatham play second base a bit. It may have just been in 12 games, but that was 12 more games at the position than he had seen in the rest of his time in the Boston organization.
With all that in mind, let's look ahead to the 2020 season.
There's a chance Chatham cracks the Majors immediately due to the entire situation going on right now. However, it's most likely that he starts in Triple-A. While there, it would be wise of the Red Sox to give him more time at second base. He's shown a really nice glove in the minors and it could play even better at second.
So this is what we could be seeing from Chatham in 2020. A short stint in Triple-A to make sure he has everything down. Then a jump to the majors.
There, Chatham can help at shortstop if needed. He'll mainly be there for second base duties though.
What's crazy about Chatham though, I don't think he'll need much time to get acclimated. I've said for a very long time that this is someone who can go to the majors and hit .300.
The right-handed hitter has a .298 average in the minors. Now he'd be in a lineup featuring Xander Bogaerts, Rafael Devers and J.D. Martinez, to name a few.
That sounds like a perfect set up for Chat. This could absolutely maximize his run scoring potential. And imagine that bat at Fenway Park. The home runs probably won't ever be insane, but he can go 15+ and absolutely pepper the Green Monster on a nightly basis. I'm talking doubles all day.
So why will 2020 be the year of Chatham? There's a lot to unpack there so I'll give you a quick overview of it all.
Major League debut? Check.
Inserted into a lineup that maximizes his potential? Check.
Doubles and runs for days? Check.
Showing off his severely underrated glove? Check.
Chatham reminds me a lot of Pedroia for a few reasons. Not just style of play, but in the sense that he's one of the top prospects in the organization, but doesn't have much hype around him. What did Pedroia do with the Red Sox? Just rake. Rake and play elite defense. Win awards. Win Championships.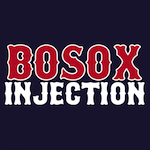 Want your voice heard? Join the BoSox Injection team!
Write for us!
I'm not saying the careers will end up being the same. I'm just saying watch out for C.J. Chatham, he's coming. And 2020 is the start of it all.