Red Sox: All-Star team of managers who also played for the franchise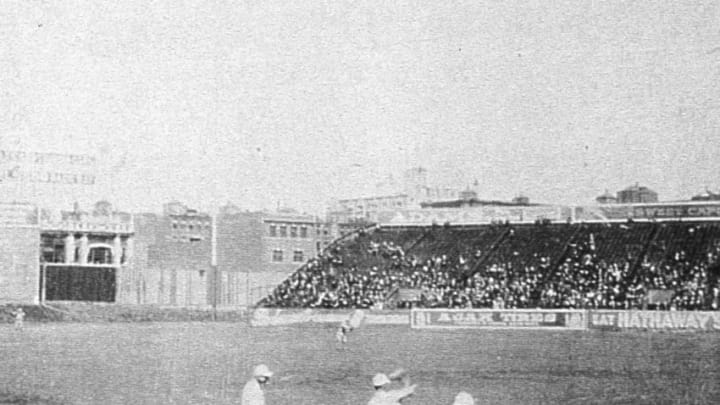 BOSTON - OCTOBER 9, 1918. Warm up activity in right field before a 1918 World Series contest in October in Fenway Park in Boston. (Photo by Mark Rucker/Transcendental Graphics, Getty Images) /
UNSPECIFIED – 1929: New York Yankee manager Miller Huggins shaking hands with Boston Red Sox manager Bill Carrigan. (Sports Studio Photos/Getty Images) /
Catcher
Being a catcher creates a pathway to a manager position and the Red Sox are no exception. I would love to see a reluctant Jason Varitek throw his cap and face mask into the ring for the Red Sox position.
The Red Sox had the Varitek of their past with hard-nosed (nickname was "Rough") Bill Carrigan who served four seasons as player-manager (1913-16) winning two World Series titles. Carrigan played his entire ten-year career with Boston, hitting .257 with only six home runs, but he was a well-noted handler of pitchers and that the Red Sox had.
Carrigan took over the team in 1913 after internal struggles – mostly around religion – had created a clubhouse fracture. That was only exasperated by a series of injuries to key players and a reluctant Carrigan took over a veteran team. End results were the only back-to-back World Series championships in team history (1915-16).
After the 1916 championship, Carrigan packed it in and left, but the reasoning was solid. He was as sharp in the business world as he was on the bench and behind the plate. Baseball had a long season and Carrigan had businesses that needed attention, but then came the return.
In the 1920s, the Red Sox were beyond awful and quite possibly the worst franchise in all of baseball. The only consistency was losing and having no one show up at fire-ravaged Fenway Park.  The call went out to Carrigan who accepted the challenge and returned for three seasons (1927-29). Big mistake and Carrigan resigned despite the pleadings of ownership finishing off his manages career at 489-500.