Wild things: A history of the Boston Red Sox and wild pitches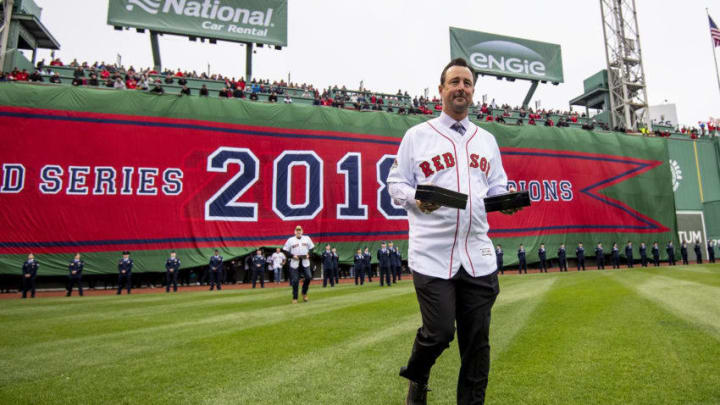 BOSTON, MA - APRIL 9: Former pitcher Tim Wakefield of the Boston Red Sox is introduced during a 2018 World Series championship ring ceremony before the Opening Day game against the Toronto Blue Jays on April 9, 2019 at Fenway Park in Boston, Massachusetts. (Photo by Billie Weiss/Boston Red Sox/Getty Images) /
The Boston Red Sox rarely has the league and individual leader in wild pitches. There are no surprises to who holds the first two slots for the all-time team leader.
Previously I wrote about balks which are relatively rare except for the 1988 season when a rules change/interpretation inflated the statistic. Another aberration to pitching is the wild pitch (WP), but the WP comes in two flavors, and the Red Sox are familiar with both.  The first is best demonstrated by the movie Major League and the character Rick "Wild Thing" Vaughn portrayed by Charlie Sheen. Vaughn's inability to find the plate with any consistency resulted in that nickname and some hilarious scenes.
The second most common symptom of the WP is the pitch known as the knuckleball that can be murderous to hit and even catch when it is hopping like a jumping bean. How bad was it? Old scrap iron himself – catcher Clint Courtney – engineered an oversize mitt to handle the dancing knuckleball of a real master – Hoyt Wilhelm.
The Red Sox have been exceptional laggards with the WP and have not led the American League in that dubious category since 1970 when they managed 70. The Red Sox were also relatively slow starters since it took until 1919 to accomplish their first WP crown with 36. But there are several seasons between these two bookends where they won the title or tied.
Cumulatively the Red Sox are also slackers with a mere 4,231 tossed compared to the far more industrious A's with 5,042. The Red Sox are actually dead last among the original AL eight in errant pitches.  Good control? Great catching? Small backstop area? Few sinkerball pitchers? Official scorer? But individually the record is rather sparse.
Our first champion was the notorious Black Soxer himself right-hander Eddie Cicotte who led the AL with 14 in 1908. Boston had to wait until 1922 when a log jam of inefficiency occurred and four pitchers tied. Our guys were Rip Collins and future Baseball Hall of Fame member Herb Pennock.
In 1929 it was Milt Gaston (17) who successfully defended his title with 11 in 1930. The last Red Sox victor was a towering and hard – very hard-throwing right-hander Earl Wilson who notched 21 in 1963 and that is also the single season high or low mark. Since Wilson, the Red Sox have been on hiatus and even Wakefield has not won a title.
Year by year the champion of this great honor has shown just how baseball has improved defensively.  The first recorded champion is Mark Baldwin who tossed 83 in 1889. The following year it was Tony Mullane who accumulated 63 on his way to being the all-time leader with 343.
More from Red Sox News
But there is one name that stands out from the ancients and that is Nolan Ryan. Ryan is in second place with 277, but Ryan also led the league six times in WP and in walks 11 times. The Wild Thing connection.
The Red Sox all-time leader is no real surprise with Tim Wakefield at 125. Wake has a slew of Red Sox pitching records that are good such as 3,006 innings pitched and bad – 168 losses. Wakefield has also hit the most batters – 178. This is the knuckleball part of the WP equation. And for the heat seekers, in second place is Roger Clemens with 75.
In 2019 the Red Sox leader was Matt Barnes with 13 and a stifling 5.3 BB/9. Right behind was fellow righty Colten Brewer with nine and – no surprise – a 5.6 BB/9. Our closer Brandon Workman had a mere four and considering his "stuff" and 5.7 BB/9 that is quite favorable.
There is the pitching humiliation of losing on a walk-off balk and on a walk-off WP.  The last to happen at the MLB level when the Mariners lost to the Rays on that most depressing of occurrences. It could be as bad as losing to a walk-off hits batsman, but that is a topic for another day while under COVID-19 house arrest.