Boston Red Sox: The dead zone era All-Stars: 1919-1932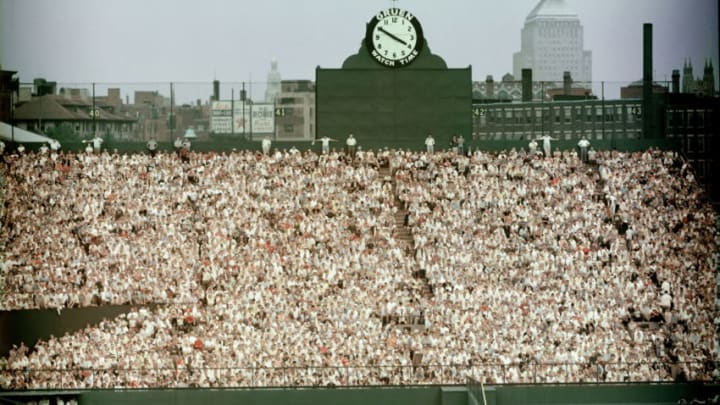 General view of Boston's Fenway Park, home of the American League baseball team the Boston Red Sox shows the fans packed in the bleachers in the outfield by the Gruen clock, 1960s. Beyond the stadium walls we can see the John Hancock Building at right. (Photo by Hulton Archive/Getty Images) /
PITTSBURGH – OCTOBER 5, 1927. The National League Champion Pittsburgh Pirates infield poses for a photo in Forbes Field in Pittsburgh before the start of game one in the 1927 World Series on October 5th. The players are (L-R) Pie Traynor, Glenn Wright, George Grantham, and Joe Harris. (Photo by Mark Rucker/Transcendental Graphics, Getty Images) /
Outfield
In 1924 left-hand hitting Ike Boone hit .337 and in 1925 showed it was no fluke and hit .330 so the Red Sox rewarded Boone by sending him to the minors where he hit .380 for the Pacific Coast League Missions. Boone won five minor league batting titles for five different teams. So how do you get shipped to the minors? Unfortunately, Boone is another of a long (very long) list of pre-DH players who were defensive disasters.
Enter another hitter who pounded out a .315 average in his four Red Sox seasons (1922-25) in right-hand hitting Joe Harris. Harris was a lifetime .317 hitter who the Red Sox traded to the Senators in 1925. Harris and the Nats made it to the World Series where Harris put on quite a display in a losing effort by hitting .440 with three home runs in the series
More from Red Sox History
A left-hand hitter who is in the record books is Earl Webb with a single-season best of 67 doubles. Webb could just flat-out hit with a .321 average with the Red Sox between 1930-31. Webb in his seven MLB seasons hit .306. The "Earl of Doublin'" had the expected liability – defense.
Honorable Mention: Ira Flagstead was a superior defensive player in center field for the Red Sox and as an added bonus the righty could hit with a .295 average in seven seasons with Boston stretching from 1923 to 1929. In 1923 Flagstead led all AL ball hawks in assists with 31. Flagstead was a fan favorite at Fenway Park in the 1920s.
Switch-hitting Jack Rothrock was a rock (sorry) for the Red Sox between 1925-32 hitting .278. Rothrock was fading and claimed by the White Sox in 1932 and did nothing, but suffering sometimes has dividends and after a season in the minors, Rothrock joined the fabled St. Louis Cardinals and hit .284 as a member of a World Series champion.