Boston Red Sox: The dead zone era All-Stars: 1919-1932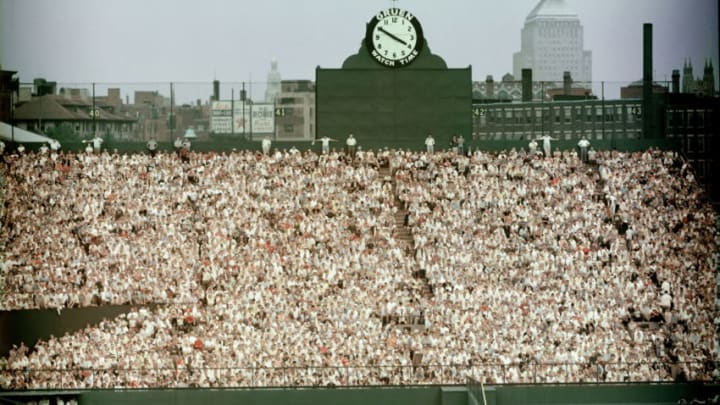 General view of Boston's Fenway Park, home of the American League baseball team the Boston Red Sox shows the fans packed in the bleachers in the outfield by the Gruen clock, 1960s. Beyond the stadium walls we can see the John Hancock Building at right. (Photo by Hulton Archive/Getty Images) /
WASHINGTON – APRIL 20, 1931. Muddy Ruel, formerly with the Washington Senators, now with the Red Sox, is presented with a token of the Senators' esteem by Joe Judge, right, on April 20, 1921 in Washington. (Photo by Mark Rucker/Transcendental Graphics, Getty Images) /
Shortstop
Right-hand hitting Hal Rhyne held down short for the Red Sox for four seasons (1929-32) hitting .246. Rhyne's first made it to MLB in 1926 with the Pittsburgh Pirates and made it to the World Series in 1927 going 0-4 as the Murder's Row cut though the Pirates like locust on a Kansas wheat field.
Rhyne was quite a cross-country traveler in the days before aviation took hold as he was a San Fransisco Seal on several occasions in his Boston and Pittsburgh stays. Cross country train travel. Ouch! Rhyne was a member of the Seals 1935 team hitting .294, but his teammate was Joe DiMaggio who hit .398. Years later Rhyne coached for the Seals.
Rhyne's MLB career ended after one year with the Chicago White Sox after the Red Sox traded him away. A lifetime .250 hitter with just two home runs in 2031 at-bats.
Honorable Mention: Baseball has had several Rabbit's and the Red Sox had one in Rabbit Warstler who hit just .227 in five Boston seasons.