Boston Red Sox: The dead zone era All-Stars: 1919-1932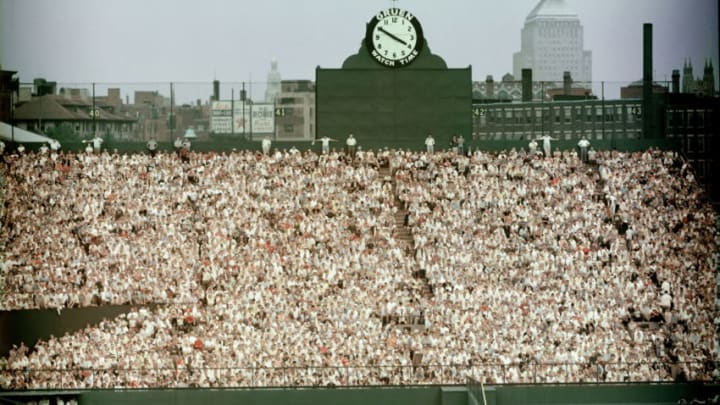 General view of Boston's Fenway Park, home of the American League baseball team the Boston Red Sox shows the fans packed in the bleachers in the outfield by the Gruen clock, 1960s. Beyond the stadium walls we can see the John Hancock Building at right. (Photo by Hulton Archive/Getty Images) /
BOSTON – OCTOBER 9, 1918. Warm up activity in right field before a 1918 World Series contest in October in Fenway Park in Boston. (Photo by Mark Rucker/Transcendental Graphics, Getty Images) /
Third Base
Right-hand hitting Howie Shanks moved around the diamond but for two seasons with Boston (1923-24), it was primarily at third base. Earlier in his career, Shanks was considered an excellent outfielder and a master of positional play.
Shanks is certainly representative of the lack of talent in Boston for this period hitting just .256 with only three home runs in 203 games. He came to Boston late in his career after a lengthy 11 years with the Senators where he once led the AL in triples – a season in which he hit .302.
Shanks did have a rescue plan but it was the Red Sox that implemented it by trading Shanks to the New York Yankees for the 1925 season. Shanks former team – the Senators – had won the pennant in 1924 and maybe this would offer Shanks that opportunity? The Yanks collapsed and finished seventh and Shanks was gone.
Honorable Mention: Otis Miller played two full seasons for the Red Sox (1930-31) hitting .274. The right-hand hitter grabbed my attention based on his place of birth – Belleville Illinois the home of The Belleville Basher – Brian Daubach! A little more research and it turns out Miller was elected to the U.S. House and later his son was.