Boston Red Sox: The dead zone era All-Stars: 1919-1932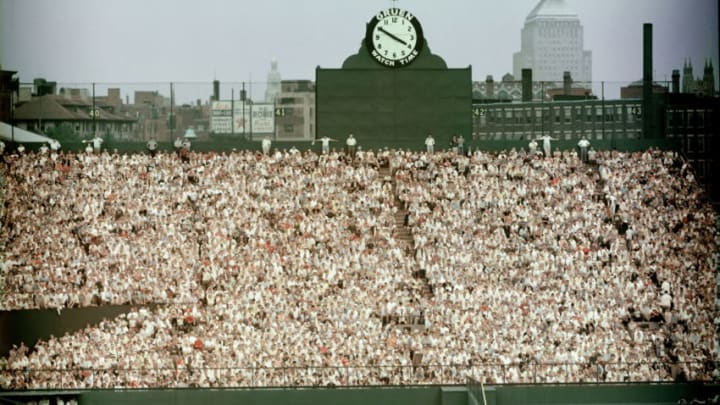 General view of Boston's Fenway Park, home of the American League baseball team the Boston Red Sox shows the fans packed in the bleachers in the outfield by the Gruen clock, 1960s. Beyond the stadium walls we can see the John Hancock Building at right. (Photo by Hulton Archive/Getty Images) /
MARLIN, TEXAS – MARCH 14, 1914. George Burns, left, and Art Fletcher leap and stretch during spring training drills for the New York Giants in Marlin, Texas on March 14, 1914. (Photo by Mark Rucker/Transcendental Graphics, Getty Images) /
First Base
The Red Sox actually acquired a former batting champion in Dale Alexander and was not disappointed as Alexander hit .372 for the 1932 Red Sox. Alexander was nicknamed "Moose" and the righty hitter was one of the best in the AL breaking in with a .345 average in 1929 and leading the AL in hits with 215. If there was a ROY Award it would have been Alexander. Then came tragedy after a trade to Boston.
Alexander suffered a serious burn situation on his leg and a knee injury that limited his mobility. If the AL had a DH in 1933 Alexander would have played, but being on the field was a defensive handicap. Alexander continued in the professional ranks in the minors played until 1942 and hitting just like he did in MLB.
Honorable Mention: George Burns (without Gracie Allen) came to the Red Sox in 1922 for two seasons. The right-hand hitting and slick-fielding Burns hit .317. When traded to Cleveland, Burns won an MVP Award in 1926. A good argument can be made for Burns being in the HOF. Steady lefty Phil Todt played seven of his eight MLB seasons (1924-30) for the Red Sox hitting .259.