Boston Red Sox: The dead zone era All-Stars: 1919-1932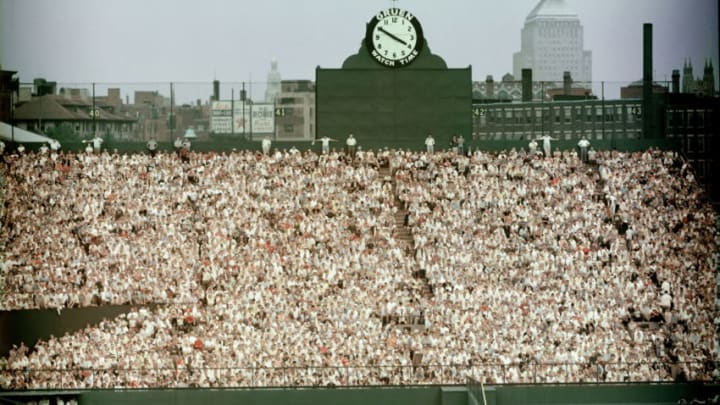 General view of Boston's Fenway Park, home of the American League baseball team the Boston Red Sox shows the fans packed in the bleachers in the outfield by the Gruen clock, 1960s. Beyond the stadium walls we can see the John Hancock Building at right. (Photo by Hulton Archive/Getty Images) /
BOSTON – 1926. In the third photo of a sequence, outfielder Babe Ruth of the New York Yankees follows through on a swing during a game against the Boston Red Sox at Fenway Park in Boston, Massachusetts during the 1926 season. (Photo by Mark Rucker/Transcendental Graphics, Getty Images) /
The Boston Red Sox were dead and well buried in the 1922-32 time frame with a series of miserable last-place finishes. Who was the best of the worst?
What exactly was the dead zone in Red Sox history? That period started just after the 1919 season when Boston sold Babe Ruth to the New York Yankees. Ruth was just part of the great diaspora from Boston to New York that eventually led to years of Red Sox misery. How bad did it get? In 1926 a fire destroyed part of Fenway Park and it was not rebuilt. No money and no fans.
In 1920 the Red Sox won just 71 games and 402, 445 fans showed up. Then it really hit the skids. Between 1922 and 1932 the Red Sox finished last in the American League nine times. A seventh and sixth-place finish completed the nightmare. By 1932 a bad team and a depression plummeted attendance to 182,150. Every season from 1922-1932 the team was well below league average in attendance.
Researching this period there are certainly interesting points that surface. The first is the dearth of talent. A second is no one stayed around that long. A third is the St. Louis Browns as a constant trading partner and lastly, is the nicknames such as Baby Doll Jacobson. Despite the poor performances, there were some players who surfaced that had respectable seasons and careers. This is their moment – an All-Star team from that troubled time.