Red Sox memories: Boston's Dead Ball Era All-Star team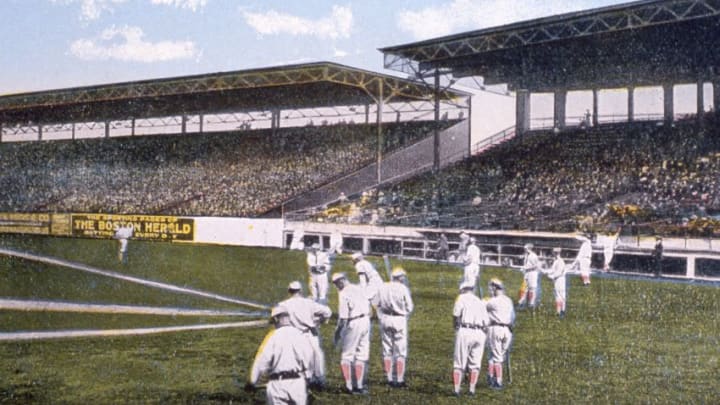 BOSTON - 1912. Pre game activity in Boston in new Fenway Park in 1912 is depicted on this color postcard from that year.. (Photo by Mark Rucker/Transcendental Graphics, Getty Images) /
24 Jul 2000: A general view of the plaque dedicated to Denton T. "Cy" Young at the Baseball Hall of Fame in Cooperstown, New York.Mandatory Credit: Ezra O. Shaw /Allsport /
Pitcher
The right-hander is rather a simple selection when you have the most prestigious award for pitchers named after you. Cy Young holds the career record for wins and the Red Sox record for wins. The durable right-hander three times led the AL in wins while toiling for the Red Sox. And if you want the best closer for the Dead Ball Era it is again Young who three times led the AL in saves while with the Red Sox.
Young came to Boston as part of the great diaspora from the NL as the two leagues engaged in a war for talent. Young was a big catch for both his size and ability as one of the best. How good?  Young 14 times led MLB with the lowest BB/9. Remarkable control. At age 41 Young went 21-11 and was rewarded for his efforts by being traded.
Honorable Mention:  Just one season is enough to put Smoky Joe Wood into this position.  In 1912, Wood did it all with a 34-5 record including a league-best 35 complete games and 10 shutouts. Wood also hit. The previous season Wood won 23, but now came the arm issue, a trade to Cleveland, and a second career as an outfielder.
The left-hander has to be Babe Ruth who went 89-46 with the Red Sox.  In two World Series, Ruth won three games and twice won 20+ with the Red Sox and led the AL with a 1.75 ERA in 1916 and allowed no home runs pitching. In 1918, Ruth went 13-7 from the mound and led the AL with 11 home runs.
In 1915, rookie Ruth won 18 games and led the team with four home runs in just 92 at-bats. Ruth was an established pitcher and considered arguably the best or close to the best left-hander in the league. Some of Ruth's pitching match-ups against the great Walter Johnson have taken on a life of their own.
Honorable Mention:  Dutch Leonard won two World Series games for the Red Sox and finished his six Boston seasons 90-64. Leonard also set the modern-era record for the lowest single-season ERA at 0.96 in 1914. Leonard also tossed two no-hitters while a Red Sox.