Red Sox memories: Boston's Dead Ball Era All-Star team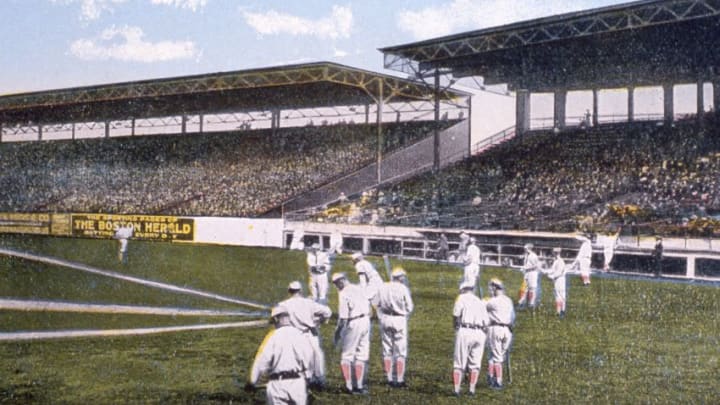 BOSTON - 1912. Pre game activity in Boston in new Fenway Park in 1912 is depicted on this color postcard from that year.. (Photo by Mark Rucker/Transcendental Graphics, Getty Images) /
UNSPECIFIED – 1929: New York Yankee manager Miller Huggins shaking hands with Boston Red Sox manager Bill Carrigan. (Sports Studio Photos/Getty Images) /
Catcher
Bill Carrigan is the only Red Sox manager to win back-to-back World Series titles and it was accomplished in 1915 and 1916. Carrigan, like many of his contemporaries, was a player-manager. He replaced Stahl in 1913 and part of it was internal issues over religion and part of it was the team was sinking after winning a title.
Carrigan was noted for his rough demeanor and even had "Rough" as a nickname.  Skilled defensively and hitting  just .257 in his ten-year Boston career. Carrigan was also an astute businessman who retired to spend more time with his business interests and family, but it was not over for Carrigan and the Red Sox.
In the 1920s, Carrigan returned to the Red Sox to manage a woeful team and it showed that even Carrigan had no power to rescue the team losing 299 games in three seasons (1927-29). Carrigan despite the pleadings of ownership resigned and never looked back.
Honorable Mention: Being on a championship team as a catcher gets a nod for Lou Criger who was noted for his defensive skills and arm.  In an age when small ball meant base stealing Criger three times led the AL in CS% while with Boston. Criger hit just .222 in his career so this was the Sandy Leon of the first Red Sox decade.