Red Sox memories: Boston's Dead Ball Era All-Star team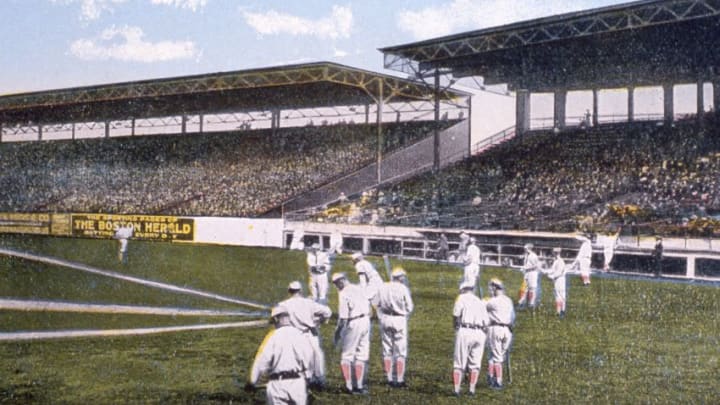 BOSTON - 1912. Pre game activity in Boston in new Fenway Park in 1912 is depicted on this color postcard from that year.. (Photo by Mark Rucker/Transcendental Graphics, Getty Images) /
BOSTON – 1912. The Boston Red Sox pose for a team photo, produced as a rotograph, with an inset for the manager, Jake Stahl, in 1912. Tris Speaker and Harry Hooper are the stars of the team. (Photo by Mark Rucker/Transcendental Graphics, Getty Images) /
First Base
Jake Stahl was no relation to teammate Chick Stahl, but Jake could hit home runs and strikeout.  In 1910, Stahl led the AL in home runs with ten. He also set a record that stood for almost 30 years with 128 whiffs. Stahl played six seasons for the Red Sox hitting 21 home runs and batting .277.
In 1912, Stahl was player-manager for the 105-win Red Sox only to resign mid-way through the 1913 season as the team hit the skids and the clubhouse became a religious war zone.
Stahl has left one interesting legacy and that is the baseball term to "Jake it" meaning not to play with intensity or loafing.  The reasoning is Stahl often removed himself from the lineup, but as a manager that was his decision. Stahl died at 43-years-old from Tuberculosis.
Honorable Mention: The Red Sox had a future dentist on the 1967 team in Jim Lonborg and the 1915-16 teams had one in left-hand hitting Dick Hoblitzell who was cleverly nicknamed "Doc." Hoblitzell was also drafted into the military in 1918 and never returned to MB. In five Boston seasons, Hoblitzell hit .269.