Boston Red Sox Memories:All-decade 1960's Red Sox team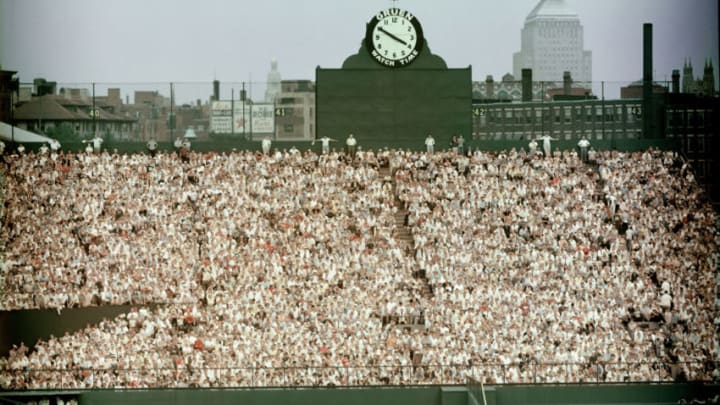 General view of Boston's Fenway Park, home of the American League baseball team the Boston Red Sox shows the fans packed in the bleachers in the outfield by the Gruen clock, 1960s. Beyond the stadium walls we can see the John Hancock Building at right. (Photo by Hulton Archive/Getty Images) /
(Photo by Jim Rogash/Getty Images) /
Rotation Pitchers:
The right-hand selection is a simple one and that is Jim Lonborg who won a Cy Young Award in 1967 along with 22 wins to lead the staff. Lonborg came off a 10-10 season that followed a 7-10 rookie season and was now under the tutelage of new pitching coach Sal Maglie. Maglie was known as "The Barber" for giving batters a close shave and got Lonborg to be more aggressive. Leading the league in hit batters (19) showed some of that new aggressiveness.
The World Series may have been decided by Lonborg having to pitch on just two days rest in the deciding seventh game. An extra day or two may have ended a curse that had not yet been named. All season long, Lonborg held the staff together.
Lonborg's career went downhill over going downhill on skis.  An offseason skiing accident led to a dismal 6-10 record in 1968 and eventual trade to the Phillies. In seven seasons with the Red Sox, Lonborg went 68-65.
Lefties are not turned out in great quantities by the Red Sox and the decade of the 1960s was not an exception so you go the trade route. The Red Sox made a deal with the Phillies that brought Dick Ellsworth to Boston and he produced with a 16-7 record. The best record for a Red Sox lefty that decade.
Ellsworth mixed his pitches up effectively and after pitching in Wrigley Field for many years was not intimidated by Fenway Park. Ellsworth didn't throw hard but had exceptional control – a 1.7 BB/9 in 1968. The following season Ellsworth was shipped to Cleveland early in the season as part of a multi-player trade. By 1971 Ellsworth was retired.
Honorable Mention: Righty Bill Monbouquette twice became an All-Star and won 20 games in 1963, but I'll take fellow righty Earl Wilson for my choice. Wilson – a towering former catcher – had a hard fastball and shoddy control with Boston leading the league in walks and wild pitches one season.  Wilson also tossed a no-hitter for the Red Sox and hit a home run in the game. A fine hitter with tremendous power Wilson hit 24 home runs in his Boston years.