Boston Red Sox Memories:All-decade 1960's Red Sox team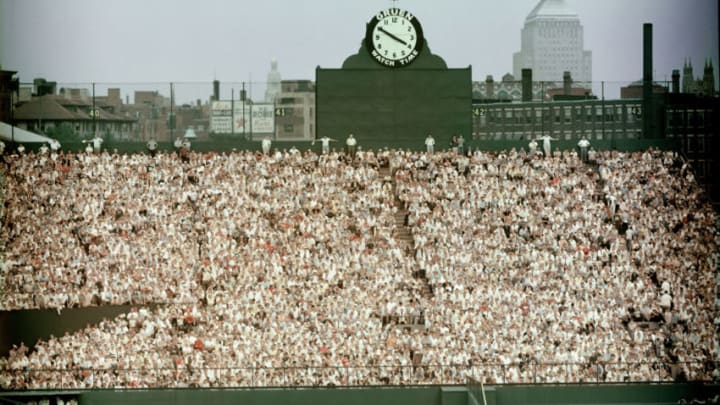 General view of Boston's Fenway Park, home of the American League baseball team the Boston Red Sox shows the fans packed in the bleachers in the outfield by the Gruen clock, 1960s. Beyond the stadium walls we can see the John Hancock Building at right. (Photo by Hulton Archive/Getty Images) /
(Photo by Billie Weiss/Boston Red Sox/Getty Images) /
Outfield
The easy pick is left field and Carl Yastrzemski who was actually considered a disappointment until 1967.  At one time the Red Sox contemplated trading Yaz to the Phillies for Johnny Callison. In 1967, Yaz had the most incredible season I have ever seen. If a play needed to be made or a clutch hit he did it.  Pure Roy Hobbs or Joe Hardy.
The center fielder for me is Reggie Smith, a switch-hitting five-tool talent who was second in the Rookie of the Year race in 1967. Smith had played for Williams the previous season in Toronto (Triple-A) and won the International League batting title. Outspoken and often abrasive, Smith was a catalyst on the field. He could be volatile and once raced into the stands to confront a fan. With Boston, Smith played eight seasons hitting .281 and twice was an All-Star.
Right field belongs to ill-fated Tony Conigliaro. Conig led the AL in home runs (32) as a 20-year-old. In 1967, Conigliaro was hitting .287 with his usual power (20 home runs) when he went down on an inside fastball by Jack Hamilton. Conigliaro was the perfect fit for Fenway Park with his powerful right-handed swing. Would he have hit 500 home runs? 600? Quite possibly.
Honorable Mention: The player that took Conigliaro's place was Ken Harrelson who was actually fired by Athletics owner Charles Finley and became a free agent. Harrelson hit just .200 with three home runs and did nothing in the WS (.077). In 1968, Harrelson hit 35 home runs and led the AL with 109 RBI.  By early 1969 the flamboyant, colorful, outspoken, and outrageous Harrelson was gone.