Boston Red Sox Memories:All-decade 1960's Red Sox team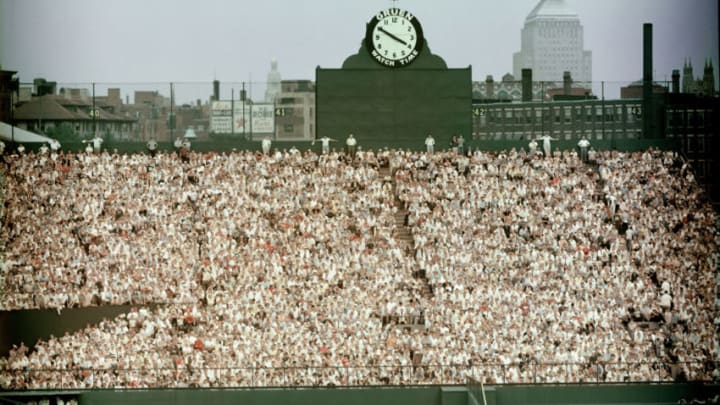 General view of Boston's Fenway Park, home of the American League baseball team the Boston Red Sox shows the fans packed in the bleachers in the outfield by the Gruen clock, 1960s. Beyond the stadium walls we can see the John Hancock Building at right. (Photo by Hulton Archive/Getty Images) /
(Photo by Focus on Sport/Getty Images) /
First Base
The "Boomer" holds down first base and that is right-handed-hitting George Scott. Scott was physically intimidating but around the bag, he was quite smooth winning eight Gold Glove Awards in his career.
That career began with a bang, hitting 27 home runs and driving in 90 RBI in 1966. Scott – a free swinger – also led the AL in whiffs (152). In 1967, he hit .303 with 19 home runs. In 1968, Scott had one of the worse seasons I have witnessed, hitting just.171 with no power or run production. A match for the awful 2018 of Chris Davis.
More from Red Sox History
Scott swung a big bat he called "Black Beauty" and wore a batting helmet on defense. His huge necklace was another accouterment that he was noted for. Scott was a jovial type and would often interact with the fans while he was sequestered at first base. Colorful, jovial, and a player and fan favorite.
Scott had two tours of duty with Boston.  The first ended when Scott was traded to the Brewers and then a return to Boston in 1977 when Scott made the All-Star team and hit 33 home runs. And Scott's home runs were not cheap – this guy could put the hammer down. Scott is also in the Red Sox Hall of Fame.
Honorable Mention: As good as Scott was with the glove the opposite was a right-handed egotist Dick Stuart. Stuart could hit the ball a long way and kick it even longer when in the field. Quite possibly the worse defensive player I have ever seen, but I'll include him but give the real honors to another holdover from the 1950s and that is lefty-hitting Pete Runnels who won two batting titles with the Red Sox.