Boston Red Sox spring training battle for 26th roster spot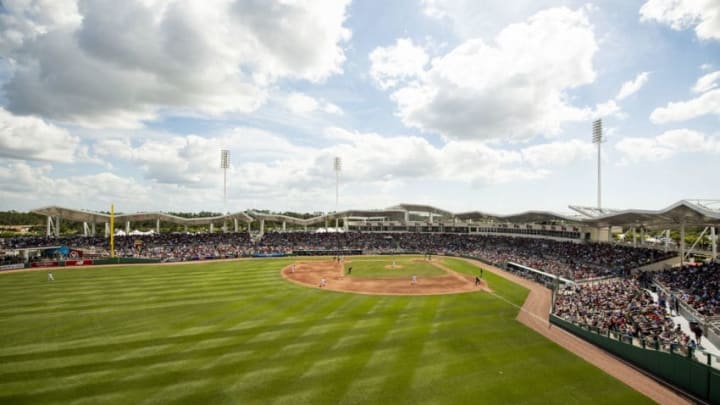 FT. MYERS, FL - MARCH 9: A general view during a game between the Boston Red Sox and the New York Mets on March 9, 2019 at JetBlue Park at Fenway South in Fort Myers, Florida. (Photo by Billie Weiss/Boston Red Sox/Getty Images) /
Baseball has now expanded their rosters and the Boston Red Sox will have an opening. Just what are the possible ramifications?
Spring training is relaxing or stressful for players depending upon their contractual situation.  Veterans are often in the enviable situation of long-term contracts offering a generational form of security. Others may be wistfully contemplating statistical improvement as they wander into the depths of arbitration. Then there are those on the cusp of employment on the now 26-man roster. The designation "invitee" or "minor league contract" as a player attempts to resuscitate a career and actually start one at the highest level.
As just mentioned, a new card is in play and that is the 26-man roster replacing the decades-old 25-man configuration. That means opportunity. The configuration also limits the number of pitchers to a Triskaidekaphobia (13) number. What this expansion does is somewhat mitigate the battle for that final roster spot.
The Red Sox will undoubtedly carry the maximum on pitchers – the magical thirteen will be on the staff eventually.  With an early spring schedule, usually weather influenced, the Red Sox may just opt for one less as they manipulate the roster. With that extra body thanks to roster expansion, it may be a life vest for those in camp on the possible fringe.
More from Red Sox News
The most notable from my first cursory glance is  Jonathan Arauz a Rule 5 capture from that notorious baseball crime family known as the Houston Astros. Arauz is an infielder who will be in the mix for a roster slot. The 21-year-old switch-hitter has just a .243 career average in the minors but was ranked 25th in the Houston farm system. If he fails to make the roster, Arauz goes back to the Astros.
Arauz is in somewhat of a sweet spot with Dustin Pedroia on the injured list and that may make it a tad easier but then comes the clog.  Michael Chavis will be somewhere and has shown the ability to play multiple positions. The possible rapid advancement of C.J. Chatham could also make Arauz expendable. Then there is the addition of a proven commodity in free agent Jose Peraza and old standby Tzu-Wei Lin is still on the 40-man roster.
From looking at the collection of infielders, Arauz appears to be in the long-shot category with his limited success in the minors and a slew of other options on the roster with a better resume.  Arauz would have to light it up this spring to latch on.
In another era it was common to have three catchers on a roster, but with pitching staffs expanding over the years that has become a luxury. Blake Swihart showed that versatility could make it possible, but Swihart went down the injury drain. The Red Sox now have two catchers signed for short money to fill in behind Christian Vazquez.
Kevin Plawecki was brought on board to replaced Sandy Leon. As with Leon, Plawecki is not thundered with the bat having just a .218 career average but is reportedly a solid citizen with the glove. Five years ago, Boston could not have Jonathan Lucroy – an All-Star in the middle of an excellent career. Lucroy has trended downward rather rapidly since then with multiple organizations and multiple releases.
Lucroy is on a minor league deal and will be expendable unless just a breath of that former ability surfaces. A typical low risk and high reward situation often extended to veterans who at one time had a presence. If I was laying out the odds it would favor Plawecki with Lucroy either entering retirement of attempting to latch on elsewhere.
There are often surprises that surface during the spring that could impact just what decisions are made. Maybe Bobby Dalbec will be hitting enough bombs to get a shot? Marco Hernandez is back in camp as are newcomers Jeter Downs and Connor Wong. And then there is Rusney Castillo and his $14 million price tag. Would the Red Sox add Castillo if it keeps them under the Luxury Tax?
The battles in spring for a player or players could be lost, but impressions are important. A word to other GM's can open up a spot elsewhere where one disappears for their Red Sox opportunity. A rookie's impression may mean a short stay in the minors until a roster shift happens or a trade. A rookie's positive spring can create value elsewhere.
There is more to spring training than the condition of Chris Sale or how the notable stars are performing  – it is the small battles that I enjoy watching that fill out the roster. Eventually, the strength of spots 23-26 can make or break a season.