Boston Red Sox: David Ortiz gives his thoughts on Mookie Betts trade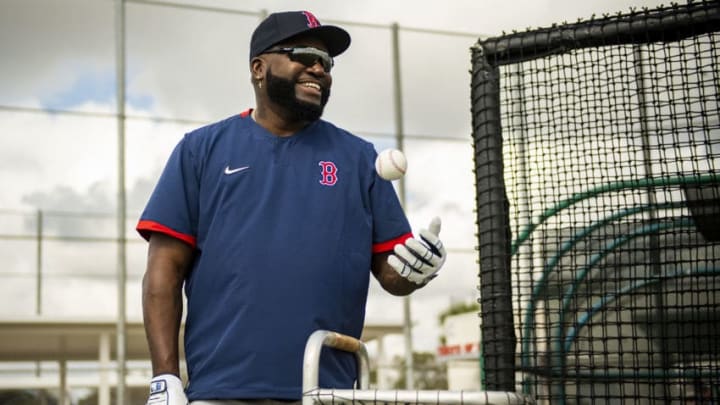 FT. MYERS, FL - FEBRUARY 20: Former designated hitter David Ortiz of the Boston Red Sox reacts during a team workout on February 20, 2020 at jetBlue Park at Fenway South in Fort Myers, Florida. (Photo by Billie Weiss/Boston Red Sox/Getty Images) /
Boston Red Sox legend David Ortiz is in Fort Myers with the team helping them get ready for the season, and he was asked about some big offseason topics.
Spring training is off and running my friends and it feels really good to be able to talk about baseball once again. I know we talk about the sport all year round, but this winter has been filled with talks of trades, budget cuts, and sign-stealing. As the Red Sox played their first game of spring training today, we can now simply talk about the game we love.
One man who loves this game, and maybe even more so the Red Sox, is David Ortiz. The Boston legend is once again in Fort Myers to help the current squad get ready for the upcoming season in any way that he can. Big Papi is a man that's seen and done it all in the game and has a wealth of knowledge for anyone willing to listen.
He spoke to the media this week about a myriad of topics ranging from Mike Fiers blowing the lid off the Astros' sign-stealing system to the trades of David Price and Mookie Betts. The former DH didn't hold back on either topic and went in-depth with the Betts situation.
""Unfortunately this game, it's not just a game. It's business," Ortiz said. "Mookie's situation, it's hard to get rid of someone like him, someone like David Price. What they bring to the table is more than enough. But the business side, we also know that Mookie is going to be a guy that's gonna get a deal close to what Mike Trout has. I'm pretty sure it's going to happen at some point.""
It's hard to deny what the slugger is saying as he's right on point with his opinion. Baseball,l despite being based around a game most of us have played at some time or another, is still a business first at this level.
Yeah, there wasn't a single member of Red Sox Nation that wanted to see those two go, and I still believe we should've gotten a King's Ransom for the duo, but it's what the team felt they had to do. That's why we haven't seen either player sour on the deal, yet.
Ortiz knows that having Price and Betts on your roster is a hell of a lot better than having them on someone else's, but there's nothing that can be done. The best thing the team can do know is to refocus and continue to build on the relationships that are still in camp, as well as forging new ones with the recent additions.
FSG and Chaim Bloom did what they felt they needed to do in order to achieve their goals for 2020 and beyond by completing the trade. Now the payroll is below the CBT threshold which resets the penalty marker for the organization.
They can now spend whatever the hell they want next winter in an attempt to re-sign Betts in free agency as well as possibly restructuring J.D. Martinez's deal to eliminate those pesky opt-outs.
Again, I hate the fact that the Red Sox traded away a generational talent the likes we haven't seen since Ted Williams, but I don't have a say in the matter. Papi also spoke from a player's perspective about Mookie's desire to get paid in free agency and once again, he was spot on.
More from Red Sox News
""Sometimes people think that as a player we get greedy when it comes down to (a) contract," Ortiz said. "But it only goes around once. It doesn't go around twice. It goes around once and you've gotta get what you earned. Because nobody give you anything in this game. You've gotta earn it. And Mookie has earned every single dollar that he's gonna get.""
That's the benefit of hearing someone like Ortiz speak on the matter as he can give you insight from both sides of the coin. He was a long-time player that had not only been involved in a trade but also experienced free agency and arduous contract talks.
He's also close to the team in his retirement and has a strong relationship with the owners. He is able to see the situation from both sides of the court which allows him to give one of the more informed opinions.
The best part of the media scrum came when Ortiz was asked if he thought that the Red Sox could win without Mookie in their lineup.
""They won without me," Ortiz said."
Such a candid response and yet another great example of how the machine works. Yeah, it's not going to be easy to replace Betts or even find as much success without him, but they can. Papi was considered as irreplaceable as a player can be during his prime in Boston, and yet they were able to win once he hung up the cleats.
The Red Sox are in for a hell of a campaign in 2020 with numerous key components in the machine no longer available. Chaim Bloom has been working to find replacements on a budget and has done an ok job at that, the pitching is still atrocious. Losing Mookie Betts is above anyone else that departed this winter as he was just entering his best years and still has a lot of playing time left. It won't be easy for Boston, but as Ortiz said, they can win without him.