Red Sox News: Investigation to pass Dave Dombrowski and Ron Roenicke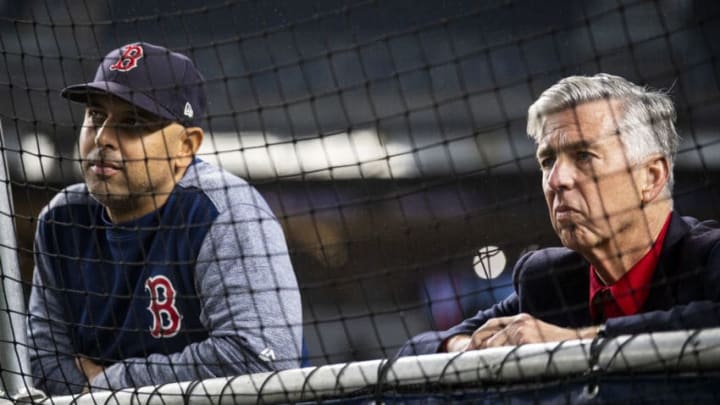 NEW YORK, NY - OCTOBER 8: Manager Alex Cora and President of Baseball Operations Dave Dombrowski of the Boston Red Sox look on before game three of the American League Division Series against the New York Yankees on October 8, 2018 at Yankee Stadium in the Bronx borough of New York City. (Photo by Billie Weiss/Boston Red Sox/Getty Images) /
The Boston Red Sox are patiently waiting as the MLB concludes its investigation into the 2018 season, but things may be looking up soon.
It's been a long winter for the Red Sox but there may be some light at the end of the tunnel soon. MLB Commissioner Rob Manfred has pushed back the deadline to complete his investigation into the 2018 squad's alleged sign-stealing efforts. His new target is set for the end of this week, or in other words, within the next 72 or so hours.
After the guillotine barely grazed the Astros earlier this offseason many were wondering if the Red Sox would feel a harsher penalty. The two crimes in question are far apart in their nature but are still infractions nonetheless. Boston has already felt the sting from Houston's mess with the parting of ways with manager Alex Cora but looming sanctions have frozen the team all winter.
Jon Heyman of the MLB Network reported today that two members of the Red Sox organization during the time in question may be safe from repercussions. Former President of Baseball Ops, Dave Dombrowski, will most likely be found having no involvement with any wrongdoing during 2018.
The front office man was fired by the Red Sox in September once the writing was on the wall that the 2019 season was dead and buried.
Dombrowski has yet to find a new home after parting ways with Boston but having his name free and clear of any cheating allegations can only help the job search. With his history of big spending and big results, only a handful of clubs will feel like a solid fit for his management style. Again, not having this hanging over his head for much longer can only bolster his opportunities.
The other man that Heyman mentioned in his reports was recently promoted interim manager, Ron Roenicke. Boston's former bench coach under Cora was named his successor after what felt like an incredibly long search by Chaim Bloom and his team. After interviewing multiple outside candidates as well as those already in-house, Roenicke was given the job, and rightly so.
After a decent amount of roster turnover this winter, with the likes of Mookie Betts, David Price, Rick Porcello, and Brock Holt all heading elsewhere, having a familiar voice at the helm is important. Boston responded well to the message and style of Cora and Roenicke has already expressed his desire to continue his predecessor's mantras in the clubhouse.
With the abysmal campaign that was 2019, the Red Sox will need to come out of the gates all-systems go in 2020. Having someone new captaining the ship may throw a wrench in that plan but considering it's someone the players a familiar with, I doubt that'll be the case.
As far as the investigation is concerned, I'm going to go out on a limb and say Manfred is coming up short in a massive way. It felt like the Houston case was open and shut in the blink of an eye and yet it's taken him an eternity to find what feels like nothing. If he had the type of ammo that he did against the Astros then this would be over by now.
Very interesting that he has to keep pushing his due date back while also using distraction techniques to draw attention away from it. Why admit that you have nothing to hold against the Red Sox when you can offer up a ludicrous change to the playoff format? I sure don't have the answer for that one, friends.
More from Red Sox News
Also, don't get me started on the Yankees, who were also mentioned in that initial report from The Athletic's Evan Drellich and Ken Rosenthal. With Joe Torre in a power position within the MLB, I highly doubt anything will ever happen there. Alright, that's enough of Conspiracy Theory Corner for one night.
When all is said and done it feels like the Red Sox will avoid any heavy penalties from this investigation as that's what's been reported all winter long. Having Roenicke and Dombrowski seemingly cleared by the MLB already is a massive boost of confidence. Add in the numerous members of the Boston roster that have spoken out against the investigation and this feels like a win for Boston.
Even if Manfred does find something after his long and arduous search, it took him far longer than it did to find what he did in Houston. To me, that means what turns up is either minuscule in the grand scheme of the game or the Sox are just REALLY good at not being snitches. I'm thinking it's going to be more of the former than the latter.
This season will be huge for the Red Sox in a number of ways. Not only do they need to bounceback from their World Series hangover, but they have to do so without a handful of their biggest stars. Don't forget that they're also going into 2020 with a new manager and new Chief Baseball Officer. Winning this season isn't a guarantee or even a longshot, it can be done and with this talented group and coaching staff, I wouldn't be shocked.