Red Sox: Last days of Mookie Betts have a sad, familiar feel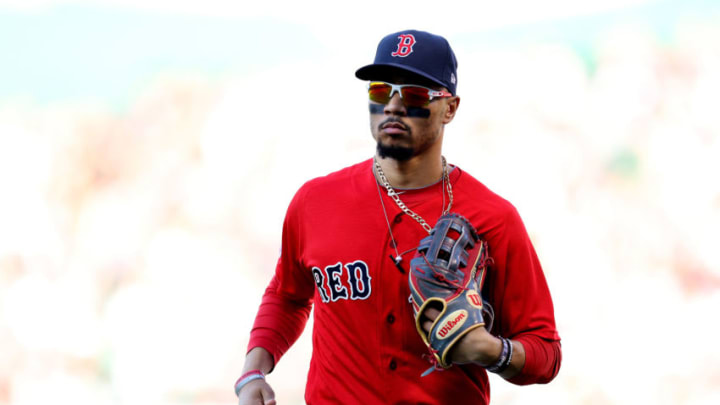 BOSTON, MASSACHUSETTS - SEPTEMBER 29: Mookie Betts #50 of the Boston Red Sox runs to the dugout during the fifth inning against the Baltimore Orioles at Fenway Park on September 29, 2019 in Boston, Massachusetts. (Photo by Maddie Meyer/Getty Images) /
With uncertainty swirling around Mookie Betts' status with the Red Sox, it's starting to feel like the last days of another iconic Boston player.
Right now, Mookie Betts is still a member of the Boston Red Sox and penciled in as their leadoff hitter and starting right fielder. We all know this is the final year of his current contract with the team and that he'll make $27 million in 2020 thanks to an agreement he and the front office reached before the arbitration deadline. We all know he's said he's not going to sign an extension or give the Sox a hometown discount, and we all know he has his mind set on getting to free agency.
With the trade rumors surrounding Mookie percolating all winter and really heating up over the last week, a report came out from Lou Merloni (make of that what you will) stating that the Red Sox and Betts are far apart when it comes to what they perceive as his worth. The team offered him 10 years and $300 million after the 2018 season, to which Mookie countered with 12 years and $420 million.
""That gap of $120 million marked the third consecutive offseason the Red Sox and Betts were off by roughly $100 million in contract negotiations, citing the eight-year, $200 million offer Betts rejected following the 2017 season and the five-year, $100 million deal he turned down after the 2016 season.""
How Merloni came by this information hasn't been revealed since, even as a former Red Sox utility infielder, he's not exactly known as a team insider, but there are a few ways to take this revelation. The first is that Merloni truly came by this information via someone in the Red Sox and the team is using it as a negotiating ploy.
The second is that Mookie intentionally inflated his counter-offer (he in essence no-quoted himself) in order to A) show the Red Sox there's no way he's not getting to free agency, or B) is calling their bluff. In the second case, Mookie could be saying to the Red Sox "if you want me to sign before I'm a free agent, it's really going to cost you."
The third option (keeping in mind that it doesn't have to be only one of these, but could and probably is a combination of all three) is that the Red Sox intentionally leaked this information. Keeping in mind how incredibly PR conscious the team is, this could be their way of putting it out there so that if/when they either trade Mookie or lose him in free agency, they can point to this and say "See? We tried our best, but he just didn't want to sign here."
There is precedence for this and it goes back to another iconic homegrown Red Sox player who had a less dignified exit from Boston: Nomar Garciaparra.
As we all remember, the Red Sox traded Nomar to the Chicago Cubs at the 2004 trade deadline and received Orlando Cabrera in return. That move helped to (eventually) give the team the shot in the arm they needed as they finally ended their long World Series drought.
Nomar was in the final year of his deal and rejected the Red Sox offer of four years and $60 million (don't those numbers seem quaint now?) because he felt insulted that it was less than what Derek Jeter and Alex Rodriguez, the other two members of the Holy Trinity of American League shortstops, were making. There was also the matter that the Sox had tried to trade him for Rodriguez after the 2003 season. He decided to play out the remainder of the season and become a free agent, so the Red Sox made the decision to trade him and the rest is history.
More from Red Sox News
There was also the obligatory hit piece by one of the finest hatchet men in the Boston sports media, Dan Shaughnessy. He wrote a column a few weeks before the trade calling Nomar "damaged goods" and urged the Red Sox to trade him. He also went on to rip Nomar for not playing hurt while simultaneously saying "I'm not trying to rip a guy who won't play hurt," a classic Shaughnessy trope. Yes, Nomar sulked his way through the season to that point, but there's no way the attacks from the Boston sports media didn't help him decide to sign elsewhere once he became a free agent.
Like Nomar, Mookie has had to have heard the constant barrage from the Boston sports media and fans constantly ripping him for not taking the Red Sox offers, for being hellbent on getting to free agency, for countering with a Mike Trout-level amount, and for "not wanting to be here." While the always-smiling Mookie is nowhere near the curmudgeon that Nomar could be (especially toward the end of his time in Boston), the constant negativity and criticism is probably having the same effect on him.
The leak of Mookie's counteroffer in particular has the same feel, as though the team (remember, John Henry also owns the Boston Globe) is leaking little bits of information to paint Mookie in a less flattering light in order to lessen the PR hit they're going to take when he leaves whether by trade or free agency. They smeared Terry Francona on his way out of town in 2011 in an infamous hit piece by Bob Hohler and there's no reason to believe they won't eventually do it with Mookie. Perhaps this is but the opening salvo.
Whether the Red Sox trade Mookie to the Dodgers, Padres, or someone else before the season starts, whether they trade him closer to the July deadline, or whether they let him walk in free agency after the season, we've entered the phase of the process where this feels like the end of Nomar's time in Boston. It was a sad process in 2004 and it has that same, familiar sad feeling with Mookie in 2020.