Red Sox News: Design flaws, cost overruns at Triple-A Polar Park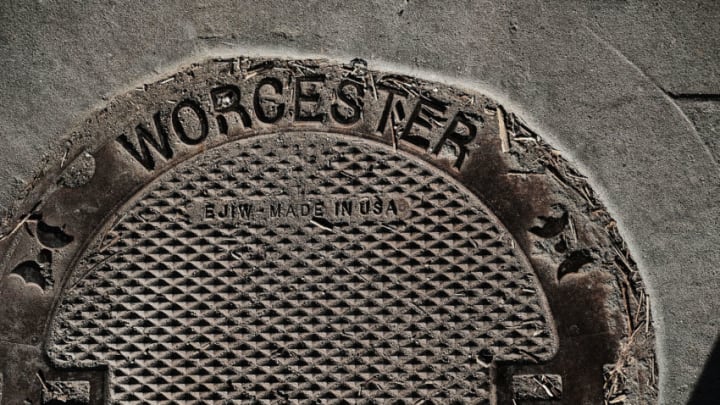 WORCESTER, MA - MARCH 20: A sewer grate is adorned with the name Worcester in an economically stressed section of the city on March 20, 2018 in Worcester, Massachusetts. Worcester, once a thriving manufacturing hub, has recently made moves into the medical industry, education and as a metropolitan hub for refugees in an attempt to revive its moribund economy. Like a growing number of Northeastern cities, Worcester has a chronic problem with homelessness and opioid addiction. The latest data in 2016 showed that 24.4% of Worcester residents were living below the poverty level. With overdoses increasing, the city plans to file litigation against pharmaceutical manufacturers and distributors of opioid products. (Photo by Spencer Platt/Getty Images) /
The Worcester WooSox is having issues with Polar Park and design flaws and cost overruns. For the Boston Red Sox this means little, but not for WooSox fans.
Sports have rivalries and need one just say Yankees and Red Sox as a confirmation of the intense conflict that goes beyond their field of dreams. Both franchises engage in a public display of one-upmanship for players and their adoring fans follow along tossing verbal broadsides on social media sites.
Another competition continues in all sports and that is franchise pilfering. The goal is simply a business transaction just as a corporation will look elsewhere for cheaper labor costs, taxation, and other incentives to improve the bottom line. Las Vegas just completed a stadium that was the carrot to attract the Raiders.
Baseball has a history of franchises moving to perceived greener pastures such as the Braves and Athletes with three moves each. This also feeds down a level to second cities and that means the fiscal combat between the Providence area and Worcester for the bragging rights to having a Triple-A team and all the local hubris that go with it.
More from Red Sox News
Worcester won this rather lengthy struggle and some will be as bold to say that Worcester lost when the final bill is presented to the taxpayers and ticket holders. The new ballpark – designated Polar Park after a shovel load of dough secured that honor.
Providence/Pawtucket did fight the good fight with various approaches to a new playground especially with the possibility of India Point and the old Apex site. Eventually, the traction was not there for the necessary investment and the PawSox are now the WooSox.
Where does this stand now?
Polar Park is scheduled to be seat ready for the start of the 2021 International League season. The park will be – to use the tired expression – state of the art, which means the art is the costly part. The park will be a mini version of its major league big brothers and that includes luxury boxes.
The selling point for a park is that it is generally wrapped up as a centerpiece in redevelopment. Redevelopment is usually and invariably connected to another term – cost overruns. For Worcester, the target area was the dreadful and confusing Kelly Square area and the Canal District. Just how much? A $240 Million price tag – park included, and like any project that seems to have a substantial government involvement that price tag is escalating rapidly.
The business aspect of sports I find intriguing and I have found the Red Sox migration from not being able to afford Alex Rodriguez to become a multi-billion operation an amazing success story, but there is a downside and when I read an article on Polar Park where Neil deMause was mentioned for a source of just how this is headed north in relationship to public expenditures.
"Field of Schemes" is deMause's informative tome on the world of stadium development on the public dime and Polar Park is fast becoming a microcosm of what happens when your baseball wishes become true. If something can go wrong it will and Polar Park is becoming a baseball answer to the Big Dig – Boston's vast network of $23 Billion to get you to the airport 15 minutes quicker.
The latest is a $20 Million blunder in designs that will jump up the projected costs well over the $100 Million mark. Package that all up with "tax incentives" and various other givebacks to the WooSox and the taxpayers will get poked, but so will the ticket holders. Expect more surcharges, higher parking fees, and possible extraction of a kidney to get a ticket to enter the ballpark. Sounds more like the Red Sox who also gets multiple incentives and oh those ticket prices!
Worcester is a "hot" city as development is rapid just like it was in Providence during the corrupt reign of Buddy Cianci. Worcester is the second-largest city in New England and wedged between Springfield and Boston – a great location. The park will undoubtedly be a success and there is some measure of positive economic runoff – certainly debatable in the proverbial big picture.
For the important factor, meaning baseball, Polar Park may just make Fenway Park look bush league for those players fortunate enough to no longer take I-95 and use I-90 instead. Maybe a return to the bushes won't be as painful as going to decrepit McCoy Stadium? And ditto for the fans as I have spent far too much of my life at McCoy even back when it was an Eastern League ballpark.
Hopefully, Polar Park will be ready, but somehow I expect delays and more delays as design issues surface or construction woes take place. Maybe you will see part of the WooSox 2021 home schedule at Fenway Park? The fear is you just might see all of it at Fenway Park.