Red Sox: Trading Mookie Betts would epitomize today's sports mentality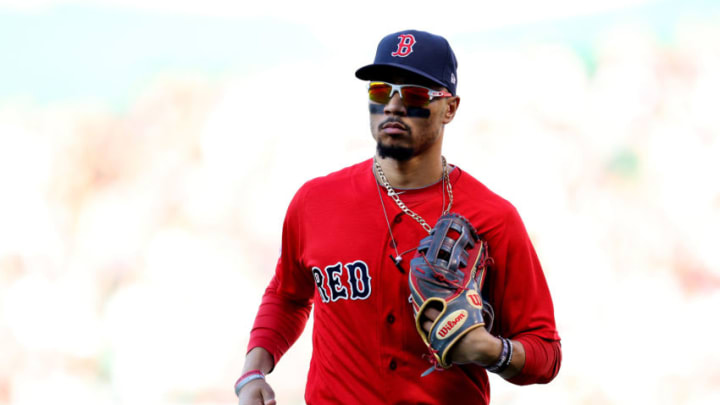 BOSTON, MASSACHUSETTS - SEPTEMBER 29: Mookie Betts #50 of the Boston Red Sox runs to the dugout during the fifth inning against the Baltimore Orioles at Fenway Park on September 29, 2019 in Boston, Massachusetts. (Photo by Maddie Meyer/Getty Images) /
Even the thought that the Red Sox could trade Mookie Betts sums up the state of today's sporting franchises and their mindsets.
Practically all we've heard since the end of Boston's season is that Mookie Betts is on his way out. This can't be right, surely? The Red Sox wanting to get rid of their franchise player just one year after he won the MVP during a World Series winning season? Well, that looks to be the case. Amongst Red Sox Nation it's pretty obvious what outcome everybody wants to see fluctuate.
Why would you want to see a generational talent like Betts depart your ball club? The answer is you wouldn't and you shouldn't. So why does it look like this new-look front office is trying to ship him? Mookie will be an unrestricted free agent after the 2020 season, so if the rumors of him not liking Boston so much is true, then he can walk then.
But trying to get something for him when he can still be here for at least one more year could be the worst thing this franchise does since trading Babe Ruth for some cash.
I think the fact that we are even talking about this reflects where we are in sports today. And this is not just MLB, it's NBA, NFL, you name it. Teams and front offices would rather have assets than genuine superstars in some cases. It's like a video game – building for the future. And in some cases, this is the right thing to do.
We saw  Celtics general manager Danny Ainge flipping two Boston icons in Paul Pierce and Kevin Garnett for a haul of first-round picks from Brooklyn, back in 2013. At the time there were ructions, and you can say they were warranted. Especially given everything that they did for the C's. Looking back at that now, it was one of the better deals in sports over the past decade for sure.
That deal allowed the Celtics to ultimately draft Jaylen Brown and Jayson Tatum – who are looking like superstars for the Celtics this season and could be for a long time – like Pierce and Garnett were.
More from Red Sox News
Sometimes asset-building goes well, we all know that. But, essentially, what you're doing in a case like Betts' is you're giving up one of the best players in the sport for a couple of maybes. And with just a year left on his deal, teams like the Dodgers aren't going to be willing to give up their top prospects for a rental. Pierce and Garnett were 32 and 37 when the Celtics made that trade.
Mookie is bang smack in his prime at 27 and is one of the most productive players in baseball. You don't trade a perfect five-tool player in his prime for assets that you can only pray turn out to be somewhere near as good as what you gave up for them.
Yes, everybody's aware of the fact that the Sox are trying to get under the luxury tax of $208 million, but trading Mookie is by far the worst way to do this. Baseball isn't like basketball or football – there is no salary cap. Therefore there should be way less desperation when trying to do things like this. They want to cut salary, there are plenty of other ways to do this, even if it means attaching prospects to salaries to make trades happen.
What you don't do is trade your franchise player, who would be a franchise player of the highest standard on any MLB team, in order to make your payroll a little more convenient. It should be forbidden territory.
If there's any chance Mookie decides to stay in Boston and re-sign for the long-term you should take all the chances you can get and let him make that decision come the end of the season. He's going to command big numbers and commitment. But if you can't commit to a player who's done what he's done the last few years then who can you commit to?