Red Sox Memory Lane: Early 1900's star Smoky Joe Wood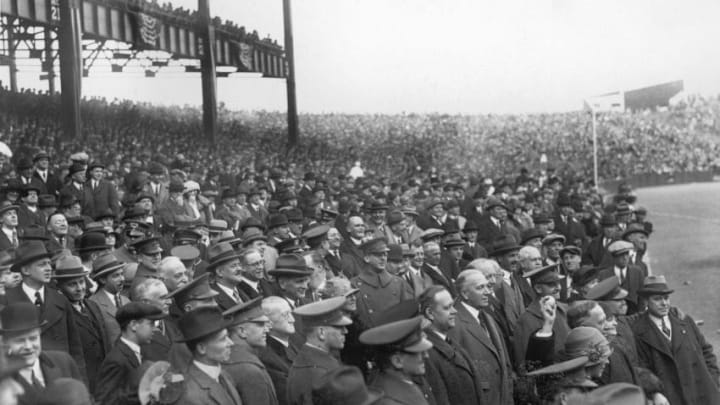 BRONX, NY - APRIL 19: Governor Alfred E. Smith throws out the first pitch at Yankee Stadium prior to the game between the Boston Red Sox and the New York Yankees on April 19, 1923 in the Bronx, the New York. (Photo by Bruce Bennett Studios/Getty Images) /
Taking a trip back to the early 1900's to remember a Red Sox great, Smoky Joe Wood. A dynamic pitcher and outfielder who made a mark on the sport.
What couldn't former Boston Red Sox star  Smoky Joe Wood do?
Born in Kansas City on October 25, 1889. Wood made his debut on August 24, 1908 and played his last game on September 24, 1922. Smoky Joe was a pitcher and often doubled up as an outfielder (as players often did in the old days). He had a career 2.03 ERA, 39.8 WAR and 1.087 WHIP over 225 games. He appeared in the old Boston Red Sox "gimme gimme the goodie stripes" for 8 years (1908-1915) and as a Cleveland Indian for 6 years (1917-1922).
Baseball has transformed quite a bit since Smoky Joe first started out at the age of 18. The 1908 World Series Champions were the Chicago Cubs. MLB was composed of 16 teams: Chicago Cubs and White Sox, Detroit Tigers, Pittsburgh Pirates, New York Giants and Highlanders, Cleveland Naps (because they often had a nap on the road), St. Louis Cardinals, Philadelphia Phillies and Athletics, Boston Red Sox and Doves, Cincinnati Reds,  Washington Senators, and the Brooklyn Superbas. The Red Sox finished the season 9th out of 16 teams.
More from Red Sox History
MLB's Matt Kelly compiled a list of the differences that 100+ years has made. 10 of those 16 teams are still in their original cities. World Series Game tickets could be purchased for $1.50. A game would last just over an hour and a half.
Smoky Joe went to the World Series twice and was an ERA pitching champion. Wood was an exceptional player who often found himself with appearances on Leaderboards, Awards, and Honors. He had 5 seasons in the Top 10 for Fielding Independent Pitching; 4 seasons in the Top 10 for Earned Run Average, Win-Loss Percentage, Shoutouts, Adjusted ERA+.
In addition, he spent 3 seasons in the Top 10 for his WAR; 2 seasons in the Top 10 for Wins, Saves, Games Played, Innings Pitched, Games Started, and Completed Games; 2 seasons in the Top 10 for Runs Batted In, Putouts as a Pitchers, Defensive Games as a Pitcher and Fielding Percentage as a Pitcher.
Smoky Joe Wood is yet another Red Sox player who should be in the Hall of Fame but isn't. Bleacher Report argues that many baseball historians view Walter Johnson as a top tier Hall of Fame starting pitcher (a top 5-all time pitcher). The argument comes in that many believed that Wood was a better pitcher when they were playing.
In 1912, he accomplished an incredible 34-5 record, 1.91 ERA, pitched 10 shutouts, won 16 consecutive games (league record), and led the American League with an .872 percentage. 1912 was almost too impressive for Wood, as he was never able to match that performance again.
Wood was average in frame and weight. He was known for being a speedy pitcher, having electric work, and his ability to throw harder than most. His pitching power came from his talented overpowering fastball. Ty Cobb was quoted recalling,
""Without a doubt, Joe Wood was one of the best pitchers I ever faced throughout my entire career," said Cobb, per the Society for American Baseball Research."
The change from pitching to the outfield was the result of an arm riddled with injuries. Wood spent a copious amount of time unable to play, battling injuries. Wood had the opportunity to transition into an advisory role with the Indians. Instead, he decided to leave baseball and later transform his fielding ability in order to continue as a player. Only now he would be an outfielder.
I can't even begin to imagine the amount of commitment and love that Smoky Joe had for the game, the internal strength needed to learn how to play (and master) a new position late in his career. In many ways it reminds me of pitcher R.A. Dickey, who reinvented himself as a knuckleball pitcher to stay in MLB.
Wood was included in "The Hundred Greatest Ball Players of All Time" written by Larry Ritter and Don Honig. As Honig explained,
""We included him in the book because he was simply one of the hundred greatest players. He showed enough in his short career to be absolutely dazzling. He should be in the Hall of Fame.""
When Wood left baseball, he transitioned into coaching with Yale where he coached from 1923 to 1942. Smoky was the father of Joe Wood, a MLB player who pitched for 1 year in the majors. Wood played for Boston in 1944. Smoky Joe Wood passed away on July 27, 1985 at the age of 95.