Red Sox vs Yankees in London: How to watch, listen, live stream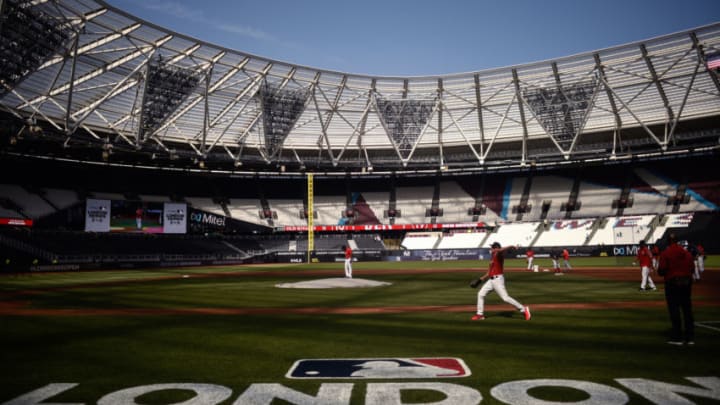 LONDON, ENGLAND - JUNE 28: General view of the London Stadium on June 28, 2019 in London, England. The New York Yankees are playing the Boston Red Sox this weekend in the first Major League Baseball game to be held in Europe. (Photo by Peter Summers/Getty Images) /
All the information that you need to know in order to tune in as the Boston Red Sox take on the New York Yankees in London.
Baseball's greatest rivalry spreads across the pond as the Boston Red Sox meet the New York Yankees in London.
MLB has expanded its international reach in recent years with games in Mexico and Japan but this will be the fist series played in Europe. It remains to be seen how baseball will be embraced in England but pitting two of MLB's most storied franchises against each other while both teams battle for a spot in the postseason is their best chance of drawing interest.
The two-game series will be held at London Stadium, a multi-purpose stadium that was initially built to host the 2012 Summer Olympics. It wasn't constructed with baseball in mind, which may explain the small dimensions compared to MLB ballparks. London Stadium seems like a bandbox that could turn this series into a slugfest. Expect to see some offensive fireworks on display, which is probably what MLB wants in order to increase interest from the locals.
The Red Sox enter the series trailing the Yankees by nine games in the AL East. They'll have an opportunity to shave a couple of games off that deficit in London. However, dropping both games would push New York's lead to double-digits, which would be a steep challenge to overcome with the season now more than half over. Losing even one of these games prevents Boston from closing the gap and potentially knocks them further back in the Wild Card race.
There's a lot riding on this series for the Red Sox and taking a pair of games from their rivals in front of an international audience could be the boost they need to spark a second-half surge.
You don't want to miss any of the action so we're here to provide you with everything you need to know for the first game of this series.
Game Info
Date: Saturday, June 29, 2019
Time: 1:10 p.m. EST (6:10 p.m UK time)
Starting Pitchers: Rick Porcello (5-7, 4.52 ERA) vs Masahiro Tanaka (5-5, 3.21 ERA)
City: London, England
Ballpark: London Stadium
TV: FOX (BT Sport 1 in UK)
Radio: WEEI
Live Stream:  fuboTV (BBC iPlayer or the BBC Sport website in UK)
Follow @BoSoxInjection on Twitter for reactions and opinions throughout the game between the Red Sox and Yankees!