This should be Red Sox second baseman Dustin Pedroia's last chance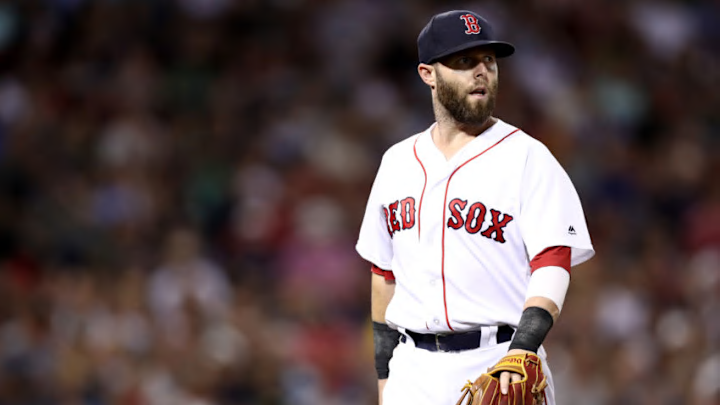 BOSTON, MA - SEPTEMBER 13: Dustin Pedroia #15 of the Boston Red Sox looks on during the third inning against the Oakland Athletics at Fenway Park on September 13, 2017 in Boston, Massachusetts. (Photo by Maddie Meyer/Getty Images) /
Boston Red Sox second baseman Dustin Pedroia will begin another rehab stint Thursday. Is he wasting a roster spot and should this be his last chance?
Boston Red Sox second baseman Dustin Pedroia is starting his rehab assignment on Thursday in  Double-A Portland. It seems like he can't get his injured knee back to 100% after undergoing surgery and therapy over the last two years. Pedroia returned for spring training but had a delayed start to the regular season. He played sparingly for two weeks, then went right back on the injured list.
Meanwhile, Michael Chavis who they called up from Triple-A Pawtucket, is proving every day that he deserves a spot on the major league roster. The question remains, is Pedroia just a waste of space on the roster?
The Red Sox have given him chance after chance to prove he's still got it and every time he fails. This should be his last chance before they have a long talk about other things Pedroia can do for the team besides playing. He can't be going on and off the injured list and holding up a roster spot for someone who could do a better job than him because of his injury.
I think the Sox are wasting their time with Pedroia and should give him a job like an assistant to Alex Cora or something so he doesn't hurt himself even worse. He's won championships, accomplished a lot, and now it's time to just face the fact he isn't the player he once was.
More from Red Sox News
In 20 plate appearances this season, he's only batting .100 with two hits and zero home runs. All that talk about him being ready to begin the season was wishful thinking. Pedroia's contract ends in 2021 and he's slated to make $15 million this year. Is it really worth paying him that much to wonder if he'll ever be able to play baseball at an elite level again?
They don't need Pedroia to win a World Series, we saw that last season. Eduardo Nunez and Brock Holt stepped up big last year to help the Sox win a championship. Why should they waste their time on Pedroia? He wasn't even a factor the last two years he was healthy enough to play in the postseason, hitting .167 in the 2016 ALDS and .125 the following postseason. You need players that will win games in October, whereas Pedroia is not one of them anymore.
He's a great mentor and could be a great coach someday. I get he still wants to play but when you don't realize that you're not the player you once were, it brings the team down and he's deluding himself.  One of these days they'll have to make a decision because you can only give a guy who can't play all the time so many chances.