Red Sox Predictions: Alex Cora will win Manager of the Year in 2019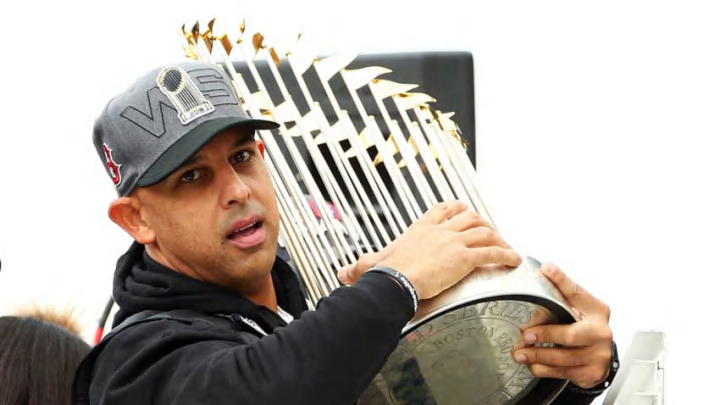 BOSTON, MA - OCTOBER 31: Boston Red Sox Manager Alex Cora holds the World Series trophy during the 2018 World Series victory parade on October 31, 2018 in Boston, Massachusetts. (Photo by Adam Glanzman/Getty Images) /
In his first year as Red Sox manager, Alex Cora missed out on the award, despite winning a World Series. Can he repeat last seasons heroics and win in 2019?
For Boston Red Sox fans it was obviously unanimous – Alex Cora should've won the 2018 Manager of the Year award. Cora's debut season as Sox skipper couldn't have panned out better if he re-did it a hundred times over. Winning 108 games in the regular season is a feat worthy of being on the shortlist, alone. But going on to win the World Series after only dropping three postseason games is something else for any manager at any time in their career.
However, after a year of never-ending awards for this special Red Sox team, Cora fell short and missed out on the AL Manager of the Year award to nothing short if a worthy winner in the Oakland Athletics' Bob Melvin who led his team to 97 wins. It was evident that the Red Sox team of 2018 was better in many aspects than the A's, making it a fair decision for Melvin to claim the hardware and there's no way Cora will be too disappointed as he picked up a few other things in his inaugural season in Boston. He'll certainly be a favorite for this years award as he looks to guide his Sox team to October and beyond, once more.
More from Red Sox News
At this moment in time, for Cora and the defending World Series champion Red Sox, it seems an impossible task to even match last season's efforts. A season like that can't just be drawn up again and again. Looking back on it, the season was a masterpiece and how could Cora not have reached his apex after leading the Sox to a season like that?
Well, like every fan knows, in sports nothing can ever be completed. You win a title in the fashion that the Sox did in 2018 and anything but a title in 2019 becomes a failure. The Red Sox have undoubtedly celebrated this title well and as we now flow into February, they'll be preparing to go and do their best to repeat and celebrate all over again this October.
Cora's 2018 performance was outstanding. It wasn't just the record or how the season ended, it was his decision making. How he handled the different infield platoons, bringing Brock Holt into the game when he hit his postseason cycle was phenomenal. He wasn't afraid to make big changes and they were changes which all had major implications, for the good of this Sox side.
With teams getting stronger, looking to knock the Sox off their perch, there's no doubt it's gonna be more difficult against the majority of teams this year. There's also no doubts over the talent that Boston holds. This juggernaut Red Sox side managed by Cora can make for results over the coming years, if conserved. Going into just his second year as a major league manager, Cora now stands as one of the premier skippers in baseball. He has a chance to go on and be great for a significant period of time, and what better place to do this than in Boston, where he has already had his fair share of experiences.