Red Sox star Mookie Betts is runner-up for AP Male Athlete of 2018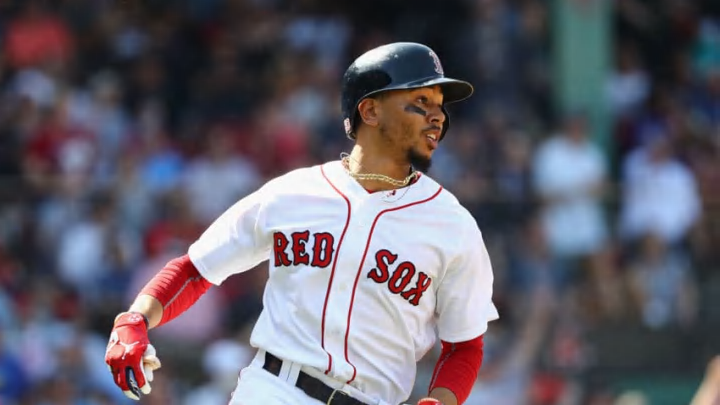 BOSTON, MA - MAY 02: Mookie Betts #50 of the Boston Red Sox runs the bases after hitting a solo home run during the seventh inning against the Kansas City Royals at Fenway Park on May 2, 2018 in Boston, Massachusetts. (Photo by Tim Bradbury/Getty Images) /
Boston Red Sox outfielder Mookie Betts finished as the runner-up to LeBron James for the AP Malte Athlete of the Year award.
Mookie Betts didn't settle for second place very often in 2018. He won the AL MVP, a Silver Slugger, a Gold Glove, and led the Boston Red Sox to a World Series championship. It was the Year of Mookie, at least in the baseball world. When we expand our review to all athletes, there's one who had a better year than Betts. At least according to the Associated Press.
Los Angeles Lakers star LeBron James has been named AP Male Athlete of the Year. He received 76 points in the balloting system used by the Associated Press. Betts finished second with 46 points.
Washington Capitals forward Alex Ovechkin finished third, followed by Kansas City Chiefs quarterback Patrick Mahomes and Triple Crown winner Justify. So, to recap, Betts at least finished ahead of a hockey player who is the face of a league that's a distant fourth in the pecking order of North American sports, a first-year starting quarterback who has never won anything of significance, and a horse.
It would have been a travesty for Betts to have finished any lower than second place given the other athletes in the running. (Side Note: Are we really considering horses as athletes now?).
It's fair to wonder why Betts wasn't first on the list. Granted, he's competing against LeBron, one of the most gifted athletes of this generation. He's the best basketball player on the planet, one of the best of all time, and basically always in the running for every award.
Still, how do you justify James having a better year than Betts? Let's run through the checklist.
Did LeBron win an MVP this year? No.
Did his team win a championship? No.
Did he have a career year? No.
This is LeBron's third time winning the AP Male Athlete award, joining Lance Armstrong, Michael Jordan, and Tiger Woods as the only athletes to win at least three times. James won a championship in each of the last two years (2013, 2016) that he received the award – but not this time.
Here's what he did do. LeBron spurned his hometown team (again!) to bolt for the glitz and glamor of Los Angeles. At least he handled the transition better than when he took his talents to South Beach but he still leaves behind a devastated Cleveland Cavaliers franchise for the second time in his career to chase rings and fame in a bigger market.
More from Red Sox News
Meanwhile, Betts had a historically great season, led the Red Sox to a franchise record 108 wins and a championship, while establishing himself as the best player in his profession. He did so while being woefully underpaid compared to stars in other sports. LeBron makes about triple the salary this season that Betts has earned in his entire four-year career.
Based on the AP report and quotes from NBA commissioner Adam Silver, James is being rewarded for as much as he does off the court as what he accomplished on it. LeBron has become an advocate for athletes to use their platform to speak up about their beliefs, pushing back against the ignorance of those who prefer that he "shut up and dribble." He opened the "I Promise" school for at-risk children in his hometown of Akron, Ohio.
Betts does a lot in the community as well, visiting children's hospitals, feeding the homeless, and making other charitable gestures. He just doesn't do it in the spotlight that the larger-than-life LeBron is constantly in.
It's been an amazing year for Betts no matter how you look at it. Simply being in the conversation for the Male Athlete of the Year award is an honor and there's no shame in finishing second to a King. Even a self-proclaimed one.