Boston Red Sox Report Cards: Outfielder J.D. Martinez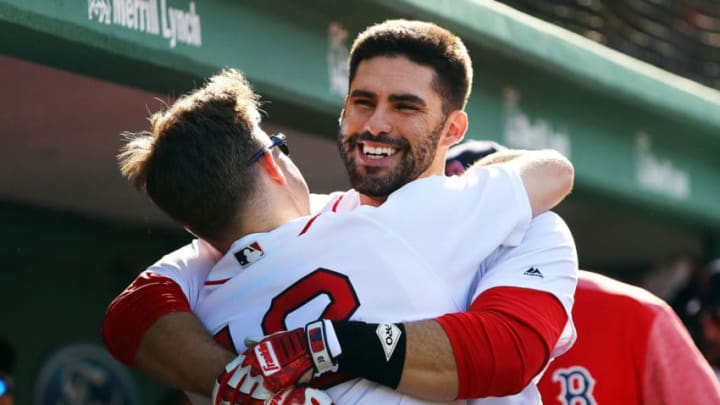 BOSTON, MA - AUGUST 04: J.D. Martinez #28 hugs Brock Holt #12 of the Boston Red Sox when he returns to the dugout after hitting a solo home run in the fourth inning of a game against the New York Yankees at Fenway Park on August 4, 2018 in Boston, Massachusetts. (Photo by Adam Glanzman/Getty Images) /
The Boston Red Sox struck gold with J.D. Martinez during the prior offseason prior to the 2018 season
The Boston Red Sox were able to attain a franchise record 108 wins during the 2018 regular season. With two MVP caliber players in Mookie Betts and slugging outfielder J.D. Martinez, opposing teams were left with tough decisions. Walk around one to face the other which was just as deadly. Case and point, the Sox offense was the best in the league this year ultimately leading the team to the postseason and winning their first World Series title in five seasons.
Martinez was a known slugger, slashing .330/43/130/6 in 2018. How could anyone argue with those numbers? Finishing second in the majors in batting average to Betts along with a second place finish in home runs, Martinez was able to best that all with a major league-leading 130 runs knocked in. When the team needed offense, no other player was more clutch. The Red Sox had their main man for the first time since the David Ortiz Era.
Without Martinez in the lineup, it's safe to state that Betts would not have had the season he had. Many remember the numbers Betts put up with the protection Ortiz offered in the lineup. When Big Papi left, opposing pitchers were not as scared to face him. The same thing applied when Martinez got added to the daily lineup.
Postseason
Martinez was able to carry his offensive onslaught into the postseason with eye-opening numbers. With 15 hits in 50 at-bats for a .300 batting average to go along with three home runs and 15 RBI's, he could do no wrong. Martinez averaged an RBI per game.
Martinez will be remembered for his long ball in Game 5 of the 2018 World Series when he hit a 400+ foot rocket off former star pitcher Clayton Kershaw in the 7th inning padding the already leading Red Sox to victory. Kershaw threw a 90 mph "fastball" right down Main Street, a major no-no against one of the best hitters in the game, if not the best hitter in the game.
Grade
If any player has solidified his value after one year of a contract, it's this man and it's no surprise that he receives the highest grade awarded to a player this season. All bias aside, Martinez could do no wrong in 2018.
Looking ahead to 2019
After getting paid $23.75 million for 2018, the superstar acquisition will receive the same annual salary in both 2019 and 2020, assuming he doesn't opt out after either season.
There are only a couple of players that could have come close to achieving the status of J.D. Martinez in 2018, some of whom played for the World Series-winning Boston Red Sox.