Scott Boras angry that Red Sox DH J.D. Martinez is not an MVP finalist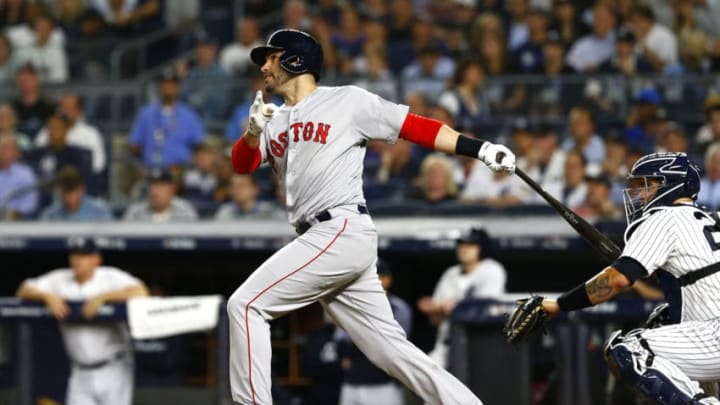 NEW YORK, NEW YORK - OCTOBER 09: J.D. Martinez #28 of the Boston Red Sox hits a sacrifice fly RBI to score Andrew Benintendi #16 against CC Sabathia #52 of the New York Yankees during the third inning in Game Four of the American League Division Series at Yankee Stadium on October 09, 2018 in the Bronx borough of New York City. (Photo by Mike Stobe/Getty Images) /
Red Sox DH J.D. Martinez had arguably the best offensive season in the MLB. So when he was not named an MVP finalist, his agent had some words for voters.
Premier agent Scott Boras represents some of the most talented players in Major League Baseball, and none of his clients had a better season in 2018 than J.D. Martinez. The Boston Red Sox DH set career highs in hits (188), RBIs (130), average (.330), and OPS+ (174), while also hitting 43 home runs.
Despite such a fantastic season, we learned earlier this week that Martinez was not named a finalist for the American League MVP award. The three finalists are Mookie Betts, Jose Ramirez, and Mike Trout.
Boras sounded off on voters leaving Martinez out to MLB Network Radio's Casey Stern:
No matter what your opinion is of Boras, he has always proactively vouched for his clients and fought to get them paid. While he is not necessarily unjustified in his sentiment, Boras may still be feeling some regret for not commanding a larger dollar amount for Martinez on the open market.
More from Red Sox News
After initially asking for around $200 million, Martinez finally agreed to a deal valued at 5 years, $110 million in late February (which includes an opt-out clause after the 2019 and 2020 seasons). Martinez played like a $35 million player instead of a $22 million player though in 2018.
Martinez was more than just a power bat in the lineup. Players including Betts and Jackie Bradley Jr. have credited him with improving their approach and mechanics at the plate. In terms of value, Martinez fit the definition to a tee for the Red Sox.
Call it a strength or a flaw, the MVP award is in large part left to the interpretation of each individual voter. Some voters value defense over offense, others value the opposite. The bottom line is that it's not black and white, and in Boras' opinion, this was detrimental for Martinez.
A designated hitter has never won an MVP award, and because the voting process is highly subjective, it may never happen. Position players have seemingly taken over the exclusivity of the vote, especially due to the WAR metric. Betts (10.9), Trout (10.2), and Ramirez (7.9) all had a higher WAR than J.D. Martinez in 2018 (6.4).