Boston Red Sox: Must-have World Series Champions items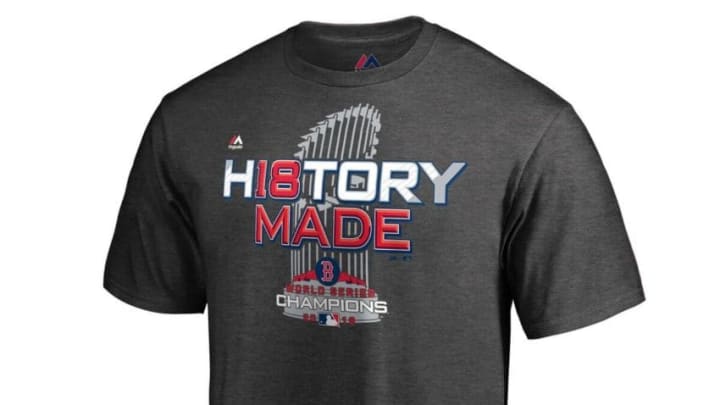 The Boston Red Sox are World Series Champions. They were the best team in baseball all season long – and you need to gear up. We're here to help.
The Boston Red Sox started Spring Training by being the best team in baseball. In the regular season, they won a league-best 108 games.
Now, the Red Sox have the championship rings to show for all the hard work. To say it was a memorable season would be an understatement. This might be the best Boston team in history – though that's a story for another day.
Right now, we're here to celebrate and show off some of the coolest, most unique, must-have gear on the planet. The kind of stuff that every Boston Red Sox fan needs to have.
Topps Now /
This 20-card team set from Topps Now comes with one autographed card. The autograph will be of one of the following players: Rafeal Devers, Andrew Benintendi, David Price, Steve Pearce, Chris Sale, Rick Porcello, Ian Kinsler, Brock Holt.
National Bobblehead HOF /
David Price was a massive piece this postseason, arguably Boston's best pitcher. He collected two wins in the World Series and gave himself a Hollywood-worthy redemption story. Now, every fan can get this 8-inch Price bobblehead from the National Bobblehead Hall of Fame and Museum. Use the code WORLDSERIES to save 20%.
BreakingT /
Steve Pearce was an animal against the Dodgers, hitting three homers and driving in eight runs in just five games. The 35-year-old had played with every AL East team, but he'll clearly be remembered as a Red Sox. This t-shirt is the perfect look for the offseason.
Fanatics /
Dress just like your favorite players with this locker room t-shirt from Majestic. Available in red and gray.
Fanatics /
Show your love for the champs from head to toe with this New Era locker room hat. Features an unstructured, relaxed fit with a low crown.
If you're still searching for some must-have WS items, don't worry. Here's a list of great places to look.