Boston Red Sox fans need this shirt before the World Series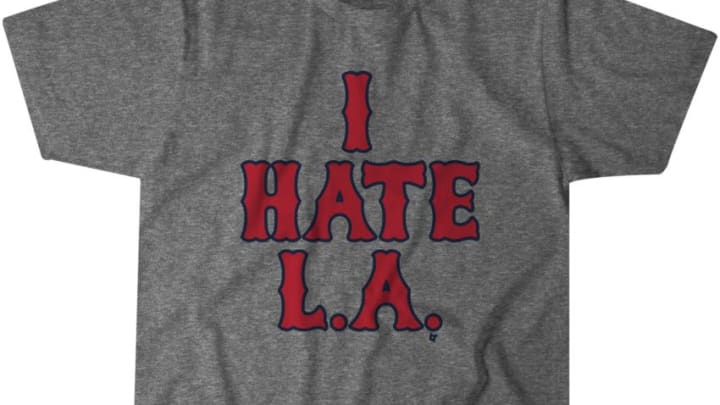 Fans of the Boston Red Sox know what's up right now. Just like in the 1980's, the feeling is no different. We hate Los Angeles. So check out this t-shirt.
The Boston Red Sox and Los Angeles Dodgers are about to meet in the World Series. It's a series that is a long-standing one in sports. Boston vs. LA. East vs. West. Just like the Celtics and Lakers clashing throughout the 1980's, this Red Sox-Dodgers series features plenty of familiar faces and history.
Obviously, Magic Johnson is in the ownership group of the Dodgers – and we don't need to explain what side we're on there (Larry! Larry! Larry!). The Sox and Dodgers connected on a massive trade six years ago. Manny Machado – perhaps the most disliked baseball player in all of New England – now plays for LA.
Maybe the only thing earning the Dodgers and brownie points in Boston is Dave Roberts. We all remember that magical moment against the Yankees, where Roberts entered as a pinch runner and stole second base – an iconic moment and an iconic comeback.
But in the World Series, all bets are off.
We hate LA. And BreakingT made the perfect t-shirt for the Fall Classic.
BreakingT /
Whether it's basketball or baseball, Boston has no love for Los Angeles.
Red and navy print pop on this heather gray tee, which is made from a premium, lightweight tri-blend of polyester, cotton and rayon. What does that mean? It means this t-shirt will keep you looking good and feeling great for years to come.
It retails for just $26 and is only available at BreakingT. Plus, BreakingT offers free shipping on all orders of $50 or more. So outfit your squad in time for the World Series.