Boston Red Sox fans need this new BreakingT shirt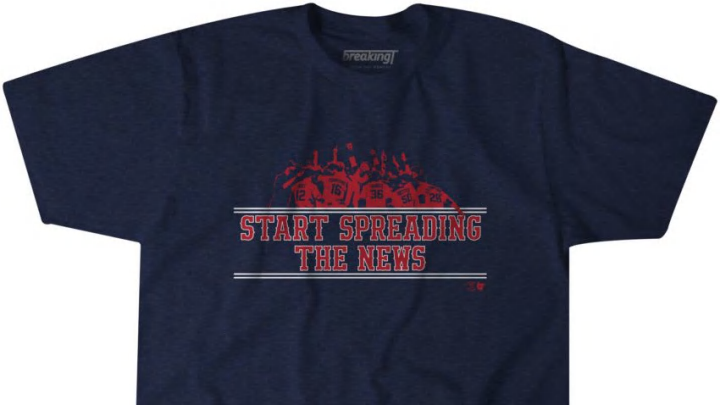 New York wanted the Boston Red Sox. Oops. Instead, the Sox are moving on to the American League Championship Series. Start spreading the news!
Yankees fans said they wanted it. Aaron Judge walked by the Boston Red Sox locker room blaring 'New York New York.' They all talked the talk.
But the Sox were the better team. Four games, three wins, a berth in the American League Championship Series.
Maybe New York meant they wanted Boston… to eliminate them? That must've been it.
In any event, the Red Sox are aiming for their first World Series appearance since 2013. Start spreading the news!
And you can spread that news with BreakingT's newest t-shirt – which is just perfect for Boston Red Sox fans. Take a look at the brand new design below.
BreakingT /
Singing for all the city to hear, Boston—led by Mookie Betts, Brock Holt, Andrew Benintendi, J.D. Martinez, Eduardo Nunez and others—had a good time celebrating its win over New York, New York.
Where do we even start with this t-shirt? The awesome design? Price point? The durability and comfort?
How about with the fact that this Red Sox t-shirt is an officially licensed product of the Major League Baseball Players Association. It retails for just $26 and is only available at BreakingT.
Red and white print pop off this heather navy tee, which is made from a premium, lightweight blend of cotton and polyester. That means this t-shirt is as soft and comfortable as it is good looking.
This would be the perfect t-shirt to troll New York throughout the rest of the postseason and all of next season.
So don't wait. Order yours from BreakingT today.