Red Sox manager Alex Cora makes more lineup changes for ALDS Game 4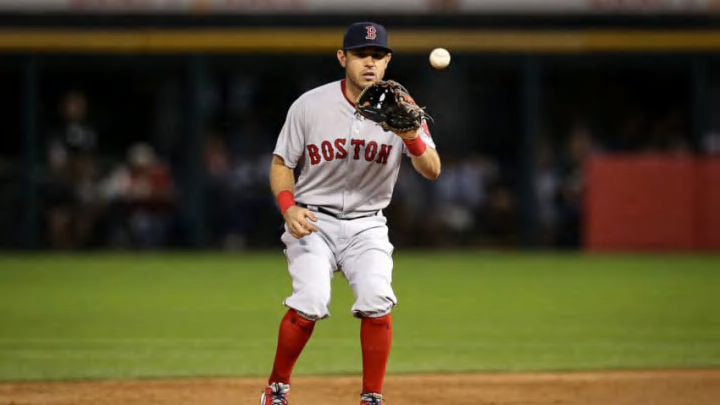 CHICAGO, IL - AUGUST 30: Ian Kinsler #5 of the Boston Red Sox receives a throw at second base in the first inning against the Chicago White Sox at Guaranteed Rate Field on August 30, 2018 in Chicago, Illinois. (Photo by Dylan Buell/Getty Images) /
The Boston Red Sox are mixing up their lineup again for Game 4 of the ALDS against the New York Yankees. Will it work as well as it did in the last game?
Alex Cora is tinkering with the Boston Red Sox lineup again. The rookie manager made several moves that panned out in a decisive Game 3 victory but he's not done making adjustments as the series moves on to Game 4.
After the changes last night sparked a 16-run explosion, tonight's changes are a bit surprising.
The most glaring omission is Brock Holt, who last night became the first player in major league history to hit for the cycle in a postseason game. Holt was one of the team's hottest hitters in September when he hit .354 with a 1.123 OPS and he's coming off a monster performance yet this will be the third time in four postseason games he sits on the bench.
The move seems rationale on the surface. The Yankees are starting lefty CC Sabathia, who has been tough as nails against left-handed hitters (.180/.339/.290 allowed to LHH). Except Holt is no ordinary lefty. He's a rare breed with reverse platoon splits, hitting lefties (.292/.395/.323) better than right-handers (.273/.354/.434). He has more power against right-handed pitching but you're not necessarily relying on Holt for his power. He gets on base and good things can happen when runners are on base.
Ian Kinsler will reclaim his spot at second base. He's been solid against Sabathia, hitting .268 with two home runs. It's tough sitting the hero of last night's game but Kinsler does present a better match-up against Sabathia and superior defense.
More from Red Sox News
Rafael Devers moves back to the bench with a lefty on the mound. He's been decent against Sabathia (2-for-8) but Eduardo Nunez has a better track record (5-for-16). Neither will leave you with a feeling of comfort in the field but the glove of Nunez gets a narrow edge.
Starting Christian Vazquez behind the plate isn't a change from last night yet it's no less surprising. It's true that Vazquez came up big with a pair of hits when given the chance to start in Game 3. His right-handed swing should give him the advantage over the switch-hitting Sandy Leon, who struggles more against lefties.
Except Leon has actually handled Sabathia fairly well, going 3-for-10 with a home run against him in his career. Vazquez is only 1-for-7 against Sabathia. Cora does appreciate Vazquez' ability to put the ball in play, so that may have played a factor. He can feel more comfortable calling for a hit-and-run or getting a runner home from third with Vazquez at the plate. Cora may also trust the overall left/right splits more than the BvP numbers. From an offensive standpoint, the decision is defensible.
The factor that makes us question why Vazquez is behind the plate is that he hasn't caught Rick Porcello all season. The Red Sox have a prime opportunity to close out this series tonight with a pitcher who has been a bit shaky in the second half. You're going to trust him with a battery mate he hasn't worked with all year?
The lineup construction draws some fair questions but we have to trust Cora's decision making considering how well his moves worked last night. He may be only a first-year manager but Cora has already earned the benefit of the doubt.