Red Sox manager Alex Cora holds Eduardo Rodriguez accountable for lack of hustle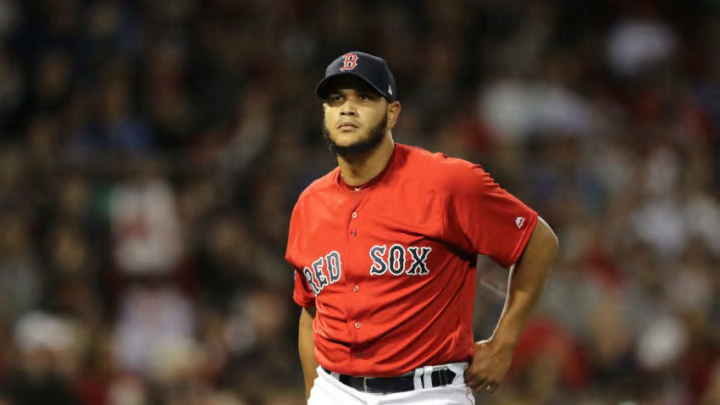 BOSTON, MA - OCTOBER 06: Pitcher Eduardo Rodriguez #57 of the Boston Red Sox walks off the field after striking Andrew McCutchen #26 of the New York Yankees (not in photo) to end the sixth inning during Game Two of the American League Division Series at Fenway Park on October 6, 2018 in Boston, Massachusetts. (Photo by Elsa/Getty Images) /
Boston Red Sox manager Alex Cora wants his players to take responsibility if they do something wrong, stressing they can't take plays off at this stage.
Alex Cora really has been the difference for the Boston Red Sox. He has been pretty honest all season and not "sugar coating" anything when it comes to his players. If he does something wrong during the game he'll tell you. Something that John Farrell would never do. Cora doesn't make excuses he just tells the truth which we haven't seen from a manager since Terry Francona.
For example, in an 8-7 comeback win over the Tampa Bay Rays, Cora admitted that he made a mistake. Cora kept J.D. Martinez in the game who was playing left field and Jackie Bradley Jr. was available off the bench. Usually, Cora would've put Bradley in center shifting Andrew Benintendi to left.  Cora was honest with the media and saying he was caught up in the moment and missed that one after the comeback.
He then was asked why he was honest. According to Ian Browne of MLB.com
""Because I did [make a mistake]. Why lie? It happens," said Cora. "Everybody saw that. I think I ask our guys to be genuine, transparent and responsible. So if I am asking them to be that way, I better be that way, because if I say something else, they know I am not telling the truth.""
Another example is on Saturday night when Eduardo Rodriguez didn't hustle to first base on a ground ball.  During the seventh inning of Game 2 of the ALDS, Aaron Judge hit a ground ball forcing Rodriguez to go cover first. Instead of hustling to the bag, he was jogging to it and Judge was safe. After that, the Yankees would score three runs in that inning and walk away with a 6-2 victory.
Rodriguez told reporters after the game on Saturday that he slipped on the mound which is why he didn't hustle. However, when  Cora met with the media on Sunday he told reporters that he had a talk with Rodriguez.
According to Christopher Smith of MassLive Cora wanted him to be accountable with the media and not lie about it.
"" I just talked to him and told him just be accountable," said Cora. "That's it,  guess he told you guys he slipped or something like that. I'm like, 'Man, if you don't break right away, just be accountable. That's all we ask.' And he's like, 'Yeah, my fault. I just didn't break. That's it.' Hey, I get it. Next time just bust your ass to first base. That's all you've got to do.""
Cora would also stress that you can't take plays off in the playoffs. Every out, and run count. The score was only 3-0 at the time of the play. That's what is great about having Cora as a manager, he wants his players to be upfront with the media and not to make up excuses for doing something wrong.
Which in my opinion is probably why David Price is mostly honest with the media after his disastrous performance on Saturday. He took responsibility for pitching lousy and that's what Cora wanted Rodriguez to do for not hustling to first base.