Red Sox starter Rick Porcello looks to cap off sweep of Toronto Blue Jays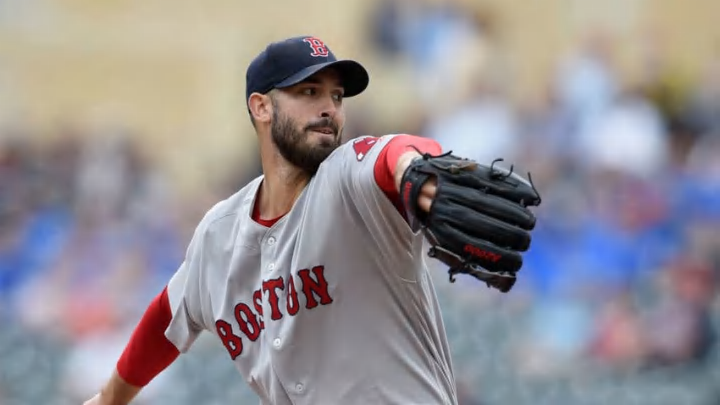 MINNEAPOLIS, MN - JUNE 21: Rick Porcello #22 of the Boston Red Sox delivers a pitch against the Minnesota Twins during the first inning of the game on June 21, 2018 at Target Field in Minneapolis, Minnesota. (Photo by Hannah Foslien/Getty Images) /
The Boston Red Sox send right-hander Ric Porcello to the mound for the series finale against the Toronto Blue Jays looking for a sweep.
It's been just shy of four weeks since Rick Porcello was shelled by the Toronto Blue Jays. Now he gets the chance for revenge.
The Jays roughed up Porcello for eight runs in only two innings on July 13 in what was easily his worst start of the season. It was also the last time Porcello lost a game.
Porcello is 3-0 with a 2.18 ERA over his last three starts. He has racked up 20 strikeouts with only two walks in 20 2/3 innings over that span.
The most recent outing may have been the most impressive we've ever seen from Porcello. A solo home run in the third inning was the only baserunner he allowed in a complete game against the Yankees. The masterful efficiency he displayed led to Porcello breezing through nine innings in only 86 pitches. It was the first time since Pedro Martinez in 1999 that a Red Sox pitcher had held the Yankees to one hit or less in a nine-inning complete game.
Porcello will take that momentum with him into a rematch with the Jays. He'll need it given his track record against this team. Porcello is 10-10 with a 5.26 ERA in his career against the Blue Jays. His last appearance against them certainly inflates that ERA but the 24-game sample is large enough to suggest one outing doesn't skew the numbers that much. Ignore that eight-run shellacking and he still owns a 4.80 ERA against the Jays.
More from Red Sox News
Last time he faced this team was at Fenway. This time he'll go up against them in Toronto, where he is 4-6 with a 4.87 ERA in his career. Porcello has been a better pitcher on the road this season (3.13 ERA away vs 4.57 ERA at home), although his meltdown at Fenway against the Jays is a big reason why.
Toronto's lineup isn't as formidable as it has been in previous years. The Jays are ninth in the majors with a .323 wOBA and 103 wRC+ against right-handed pitching. That makes them a slightly above-average lineup.
The projected lineup for the Blue Jays doesn't feature many batters who Porcello should be concerned with. Justin Smoak is 10-for-37 (.270) with five home runs against him. He's the biggest threat by far based on history against Porcello. Kevin Pillar is 12-for-44 (.273) with six doubles. Curtis Granderson is 6-for-22 (.273) but his one double was his only extra-base hit against Porcello. Kendrys Morales has a pair of homers and decent .695 OPS but he's hitting only .220 against him.
Porcello will have to be careful with Smoak but otherwise, this isn't exactly a stacked lineup. It's certainly not as tough as the Yankees lineup he shut down in his last start.
The Red Sox are riding a six-game winning streak and have won nine of their last ten. The way this team is rolling, a decent start from Porcello should be all they need to finish off the sweep in Toronto.