Red Sox outfielder Mookie Betts continues to own the Orioles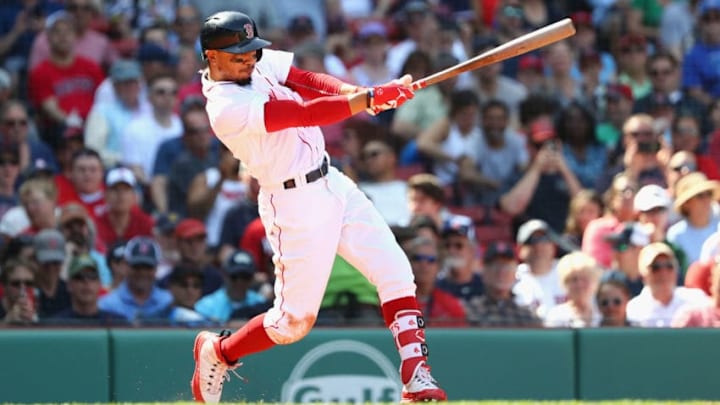 BOSTON, MA - MAY 02: Mookie Betts #50 of the Boston Red Sox hits a solo home run during the seventh inning against the Kansas City Royals at Fenway Park on May 2, 2018 in Boston, Massachusetts. (Photo by Tim Bradbury/Getty Images) /
Boston Red Sox outfielder Mookie Betts loves hitting in Baltimore's Camden Yards, making it the perfect setting for his return to the lineup.
Many were surprised to see the Boston Red Sox activate Mookie Betts from the disabled list this week without a rehab stint in Pawtucket. We should have known better. The only environment for Betts to regain his rhythm at the plate better than the minors is facing the Baltimore Orioles at Camden Yards.
Peter Angelos may be the owner of the Orioles but on the field, it's Betts who owns them.
In only his second game since returning from the DL, Betts blasted a 413 foot shot to center field to put the Red Sox on the board. He didn't wait long to prove that the pain in his side has subsided. He's' back to being a thorn in the side of the Orioles.
Betts would draw a walk in his next plate appearance and come around to score on a sac fly by Xander Bogaerts to double the lead. That was his 54th run scored of the season, second-most in the majors despite that he missed 14 games.
More from Red Sox News
The time off cost Betts his lead in some of the counting stats but he still owns the top batting average, slugging and OPS. He's third in the league with a 4.2 WAR. Not bad, considering he's yet to reach 200 at-bats. Everyone else in the AL with a 2.0+ WAR has at least 215 at-bats this season.
He's lost some ground to Mike Trout in the MVP race but there's nothing like a trip to Baltimore to get Betts back on track.
Betts is now hitting .287/.370/.511 with 14 home runs and 41 RBI in his career against the Orioles. The home run total is more than he's hit against any other opponent.
He's been even better at Camden Yards, which Betts has turned into his personal playground. He's hitting .297/.388/.594 with 11 home runs and 26 RBI in 32 career games in Baltimore. Who could forget when he hit five home runs over the course of two games in 2016?
This year hasn't been any different in terms of Betts dominating the O's. He's hitting .355 with a 1.218 OPS and three home runs in 31 at-bats against Baltimore this season. That's his highest OPS against any team against whom he's logged double-digit at-bats this season.
Next: Top first-round draft picks in Red Sox history
The Red Sox won't meet the Orioles again until after the All-Star break. They will meet nine more times in the second half though. Six of those games will be in Baltimore. That gives Betts plenty of opportunities to pad those impressive stats.