Red Sox: Five quick hits from series against Astros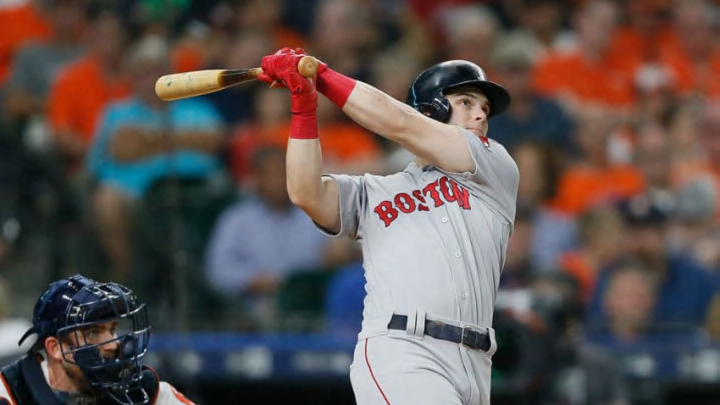 HOUSTON, TX - JUNE 03: Andrew Benintendi #16 of the Boston Red Sox hits a home run in the fifth inning against the Houston Astros at Minute Maid Park on June 3, 2018 in Houston, Texas. (Photo by Bob Levey/Getty Images) /
The Red Sox battled the Astros to earn a series split after dropping the first two games.
The Boston Red Sox salvaged a series split against the Houston Astros by capturing the final two games. While the Red Sox weren't very impressive at times, there's a lot to take away from the series as we learn just how good they are against respectable competition.
1. Chris Sale must bury his demons in Minute Maid Park
The lefty once again had a poor outing in Minute Maid Park by allowing four runs (one home run) in six innings. The start wasn't terrible, but Sale is capable of more — and the Red Sox will need him to be. Before Boston blinked, they were trailing Houston and never quite recovered.
This disappointing start comes after Sale's meltdown in last season's ALDS, where he allowed seven earned runs (three HR) in five innings. Consecutive poor outings by the Red Sox ace is a cause for concern moving forward. Can the Red Sox count on Sale to shake his Minute Maid Park demons come playoff time if these two teams meet?
2. The Red Sox offense hasn't skipped a beat since losing Hanley Ramirez
Whether the decision to cut Hanley Ramirez remains the right one, the Red Sox offense hasn't slowed down in his absence. Mitch Moreland is thriving in his new role as an everyday first baseman, hitting .305 with 10 HR and 30 RBI for fraction of Ramirez's price.
A motivated Ramirez is a dangerous one, but Moreland's consistent value on both sides of the ball is a bargain at $6.5 million.
Additionally, outfielder Andrew Benintendi continues to heat up as the season progresses. He added two moonshots and a double to help the Red Sox win the final two. He's now hitting .296 with nine HR and 41 RBI on the season.
3. Matt Barnes came through in a high leverage situation
Rejoice! Matt Barnes came into the fourth game of the series and cleaned up the mess left by Rick Porcello. While facing the heart of the order with runners on first and second, Barnes came in and shut the door in a 6-3 game in the seventh. He finished the night with two strikeouts and no hits in 1 2/3 innings pitched.
This was a big step forward for the UCONN native who has been the bud of implosion jokes since he started with the Red Sox. Don't look now, but Barnes may be gaining trust as the seventh inning guy.
4. Joe Kelly had a series to forget
Joe Kelly had his worst series of the season, allowing four earned (two HR) and three walks in 1 1/3 innings. Kelly has been excellent all year, but saw his ERA sky rocket to 2.96.
Everyone is capable of a poor series, but these outings come after rocky appearances in New York against the Yankees earlier this season. A couple of bad games don't define a season, but Kelly must execute pitches against elite competition and serve as a trustworthy eighth inning setup man come playoff time. The bullpen options behind Craig Kimbrel are thin enough.
5. The Sox showed some grit by winning the final two games
The Red Sox were often criticized for being mentally soft last season, but fighting back to win the final two games on the road against the defending World Series champs says something. Not to mention, they managed to do so without both Mookie Betts and Dustin Pedroia, who will play huge roles barring injury setbacks next time these two teams meet.
Oh, and the Red Sox beat undefeated pitcher and Cy Young frontrunner Charlie Morton, without Betts. Not too shabby.
It wasn't a pretty series, but the Red Sox deserve some credit for fighting back and rising above adversity on the road. This doesn't say much, but a split should be celebrated after the ugly start to the series.
Next: Red Sox Prospects: How to watch the 2018 MLB Draft
After all the chaos in Houston, the Red Sox still hold the best record in baseball at 41-19. They'll have a chance to improve their record even further by facing the Tigers (29-32), White Sox (18-38) and Orioles (17-41) in their next nine games.