Red Sox Prospect Watch: Beeks continued dominance highlights week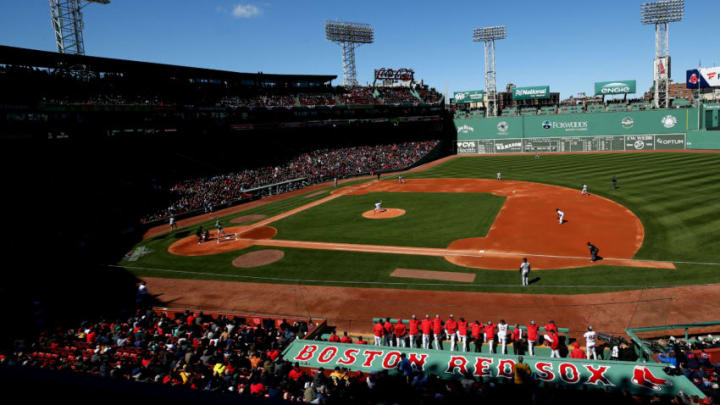 BOSTON, MA - APRIL 05: David Price /
BOSTON, MA – MAY 25: The tarp is pulled over the field prior to the game between the Boston Red Sox and the Texas Rangers at Fenway Park on May 25, 2017 in Boston, Massachusetts. (Photo by Darren McCollester/Getty Images) /
Victor Acosta is quickly making a name for himself. The 21-year-old outfielder is getting impossible to ignore as the season progresses. Through 92 at-bats he holds a .337/.380/.522 slash line with 11 RBI and 13 runs scored. He's smacked six doubles and one triple, as well as three home runs. The fact that his 2017 was strong as well makes him a good candidate to see a promotion at some point.
Charlie Madden was 3-for-13 before Monday. Therefore I felt he didn't have enough time under his belt to warrant commenting on. The 22-year-old catcher had five at-bats on Monday though. While that may not seem like much, going 5-for-5 makes it massive.
Madden is now 8-for-16 (.500) on the year, with five RBI and five runs scored. The catcher should see more time after that impressive showing.
Zach Sterry also benefited from a huge game on Monday, going 4-for-6 and raising his average to .333 on the year. The first baseman has seven RBI and three runs scored to go along with his high average.
Michael Osinski is still on the disabled-list, so no news there.
Cole Brannen is down to a .156 average but up to nine steals on the year. I sound like a broken record, but if he can figure out the swing just a little, Brannen can steal all the bags. He's 19 so there's plenty of time to work things out.
Denyi Reyes had his second straight superb outing this week. After allowing one earned run over seven innings on May 6, he gave up no earned run in five innings on May 11. His ERA is down to 2.72 and his WHIP is down to 0.93. Meanwhile, he's struck out 45 batters in 39 2/3 innings.
Kutter Crawford had a strong performance this week as well. The 22-year-old went 6 2/3 innings, allowing two earned runs. His season's been so ridiculous that it actually raised his ERA though. It jumped from 1.80 to 1.96.
The right-hander has 44 strikeouts and opponents are hitting .212 against him. Most impressively though is that he's thrown 36 2/3 innings this season, and has yet to give up a home run.
Enmanuel De Jesus has thrown 17 innings this season, and has 21 strikeouts. Opponents are hitting .188 against him, which highlights his 2.65 ERA. The 21-year-old could be on his way to the best season he's had in his professional career.
Next: Red Sox Prospect Watch: Change to top-30 list highlights new week
Finally, there's some news on Jay Groome. The 19-year-old continues to have problems health-wise. It's been announced that he's having Tommy John surgery and will be out for the entirety of the 2018 season. He has an incredible bright future ahead of him, but for the moment there's still a lot he needs to do.