Red Sox Prospect Watch: Beeks continued dominance highlights week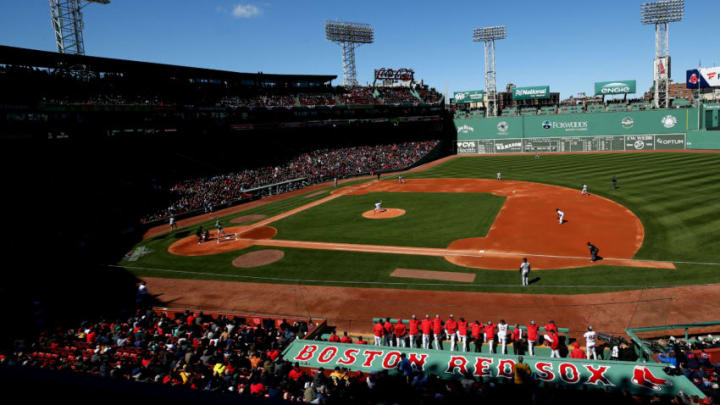 BOSTON, MA - APRIL 05: David Price /
Red Sox /
The newest member of the Red Sox top-30 prospect club, Roldani Baldwin has looked sharp so far. The catcher has a .293/.356/.512 slash line with three doubles and two home runs in 41 at-bats. There's bad news however, as he's currently on the disabled-list and hasn't appeared in a game since May 9.
Santiago Espinal continues his hot start though. The shortstop is in the middle of a 12-game hitting-streak and holds a .302/.370/.519 slash line. To go along with that, the 23-year-old has seven doubles and three triples, as well as five home runs. He's driven in 19 runs and scored 28 more, while stealing five bases.
Brett Netzer's been hot as well. After hitting his first career home run last week, he's hit safely in six straight games this week. The second baseman holds a .283 batting average and has 15 RBI.
Bobby Dalbec is still hitting under .200 (.195). He leads the Salem Red Sox in Doubles (9) and home runs (7) though, as well as RBI (22).
C.J. Chatham is in Advanced-A. The promotion is something I was expecting, but he's struggled since getting the call-up (.240 average). He only has 25 at-bats under his belt though so things can turn around quickly.
Welp, nobody's perfect right? Bryan Mata had his first rough outing of the year on May 10. The 19-year-old allowed six earned runs over 1 2/3 innings, raising his ERA from 1.42 to 3.92. Walks are still a major problem, but even with the bad start, it's hard not to be excited with what we've seen so far from him.
Roniel Raudes on the other hand looked pretty sharp is his last start. The 20-year-old went six innings, allowing three earned runs. He now holds a 3.83 ERA over 40 innings. Walks have been an issue for him as well. Just like Mata though, both are extremely young and it's easy to forgive a little command issue at this stage.