Red Sox Prospect Watch: Beeks continued dominance highlights week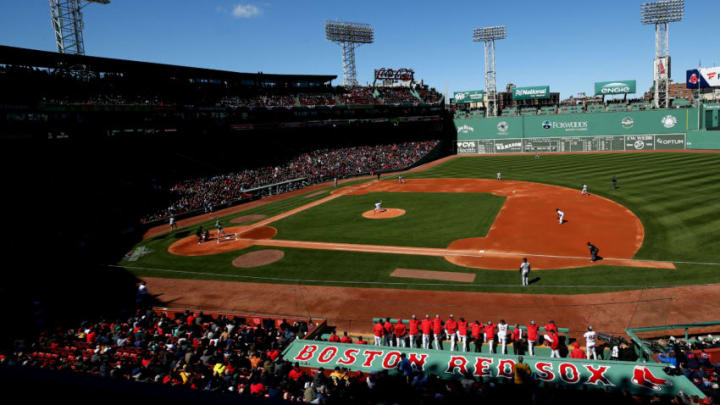 BOSTON, MA - APRIL 05: David Price /
Red Sox /
Chad De La Guerra struggled mightily in Triple-A to start the year. He's with Double-A Portland now though, and is quickly finding his swing. Hopefully some time at this level could help get him back on track.
DLG is 10-for-25 (.400) for the Portland Sea Dogs. He has a .531 on-base percentage and already has a home run and a steal under his belt.
Esteban Quiroz meanwhile is still injured.
Now let's move on to two guys who are showing major signs of life offensively. Josh Ockimey and Danny Mars.
Ockimey is riding a hot-streak that has helped jump his slash line to .241/.362/.418. Those numbers include four home runs and 12 RBI in 23 games this season.
Mars on the other hand is up to a .220 batting average. That's still low (especially for him) but he's getting solid swings in, and already has seven doubles on the year. His career-high is 21, so he's on pace to break that. To go along with those doubles he has 12 runs scored and four stolen bases.
Jhon Nunez is bringing some excitement to the catching position in Double-A. He's only slashing .235/.325/.353 with four doubles at the moment. However, he's has just 34 Double-A at-bats under his belt and has four RBI and six runs scored in that time, as well as one steal.
Matthew Kent has a 0.95 ERA over 19 innings pitched. Not much else needs to be said about the 25-year-old. His last outing saw him go five shutout innings, striking out seven. It was a fantastic bounce-back effort after he allowed two earned runs over 2 2/3 innings his last time out.
Travis Lakins had some problems in his last outing, giving up four earned runs over 2 1/3 innings. His ERA still sits at 3.18 though and he should get another opportunity before the next prospect watch.
Kyle Hart lowered his ERA for the second straight outing. The 25-year-old left-hander went six innings, giving up just one earned run. His ERA now sits at 4.38.
More from Red Sox Prospects
Teddy Stankiewicz pitched two games since the last prospect watch. Although he raised his ERA in his last outing, it's still lower than it was since our last meeting.
Stankiewicz's ERA sat at 7.03 last week. In his first game, he went 5 2/3 innings allowing just one earned run. This lowered it to 6.00. Then he allowed five earned runs over 5 1/3 innings though, which raised it back up to 6.37. Still, there's a very positive trend going on for the 24-year-old, hopefully he can keep it up.
Mike Shawaryn also pitched two games since the last prospect watch. The first game was his best outing of the season, but the second one was his worst.
In the first performance, Shawaryn went seven scoreless innings. In that time he allowed just three hits while striking out eight.
His next appearances saw him go five innings, allowing seven earned runs though.
Overall, his ERA took a hit, raising to 4.12 on the season. It's hard not to get excited about that incredible first performance though.
Dedgar Jimenez also had his best game of the season since the last time we spoke. The 22-year-old I've dubbed "Baby Bartolo" allowed two runs on just two hits over seven innings. He struck out nine batters, which set a new career-high.
Jimenez now has a 4.68 ERA in Double-A (remember he threw six innings in Triple-A, allowing two earned runs) this season. Opponents are only hitting .200 against him though and I expect him to continue to lower that ERA.