Red Sox Prospect Watch: Beeks continued dominance highlights week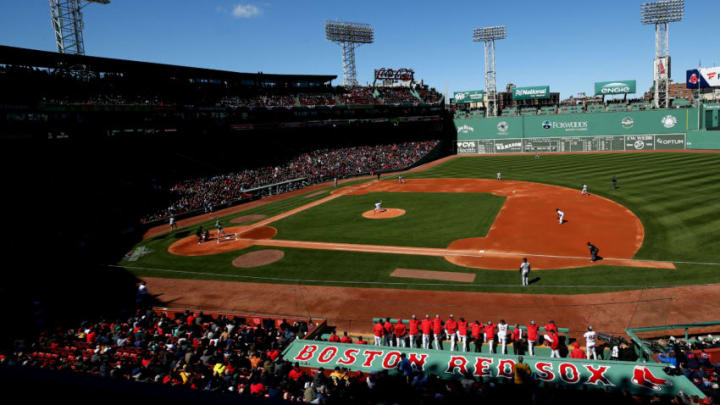 BOSTON, MA - APRIL 05: David Price /
BOSTON, MA – SEPTEMBER 12: Sam Travis /
Jalen Beeks is next level ridiculous. He's also one of the main reasons I feel going off team prospect rankings isn't the best indicator of a team's minor league system.
The Red Sox are considered to have one of the worst prospect corps in the MLB. Jalen Beeks is currently ranked 15th in their system.
The left-hander has thrown 37 1/3 innings so far this season. At the moment, he holds a 1.93 earned run average and 0.96 walks plus hits per inning pitched (WHIP). Opponents are hitting .191 against him and he has 59 strikeouts compared to 10 walks.
This is following a season that saw him dominant in Double-A and then more-than hold his own in Triple-A. Clearly, the 24-year-old has figured out this stage as well.
Okay, so I didn't start with my obligatory Rusney Castillo update, but Beeks needed to be addressed immediately. Castillo's still playing superb baseball. He holds a .317 average with 10 doubles. Meanwhile, he's driven in 17 runs and scored 15 more, throwing in 5stolen five bases as well.
Speaking of the outfield, Cole Sturgeon has been added to the mix. He was promoted to Triple-A thanks to a fantastic start in Double-A. He's only appeared in one game though, and is 0-for-3 with a run.
Sam Travis has been frigid lately. The first baseman currently holds an 0-for-19 streak that has dropped his average down to .253. He has just four extra-base hits and nine RBI on the year.
Jordan Betts on the other hand is the possessor of an eight-game hitting streak that's risen his average up to .319. He has been fantastic since joining the Triple-A team and has 12 RBI in 20 games.
Tzu-Wei Lin isn't technically a prospect anymore, but let's keep tabs on him. He's hitting .310 in Triple-A this year and hit his first homer of the year on Monday.
While we're at it, Dustin Pedroia went 1-for-3 with a run scored in his first rehab game.