Red Sox 2017 International signings are more than tragedy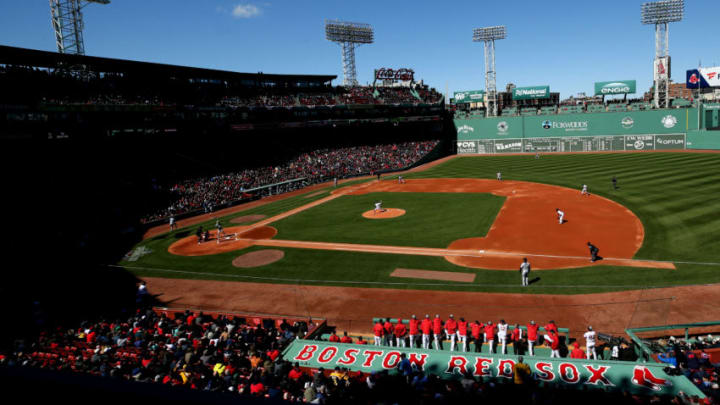 BOSTON, MA - APRIL 05: David Price /
The Boston Red Sox organization suffered a tragedy when prospect Daniel Flores passed away. Their other International signings were overshadowed by this.
During last season's International signings period, the Boston Red Sox got the crown jewel. Daniel Flores was a 17-year-old catcher and there was no ceiling for him. He was already working with elite-level defense. Meanwhile, the switch-hitter had a solid bat with potential for plus-power.
I wrote about him a few times in the past, and not enough nice words could be written for him. I was extremely excited to watch him grow as a player and see him mature. Some Red Sox prospects seemed to feel the same way.
Flores passed away from a rare form of testicular cancer on November 8. This cast a major shadow on the Boston prospect scene. That makes sense, it was a terrible tragedy and pretty unexpected.
There were two other International signings that made the Boston top-30 prospect list though. While they might not be as highly regarded as Flores (who was immediately considered one of the best catching prospects in baseball), they bring a lot to the table.
Danny Diaz sits at number 14 on the Red Sox prospect list, while Antoni Flores comes in at number 17.
Diaz is a third baseman who has the potential to do it all. He's a decent defender already with a plus-arm. Both of those can grow more. Meanwhile, the right-handed hitter grades out as a future power-bat who makes solid contact. Maybe not David Ortiz type power, but he could sit in the 25-30 home run range. There isn't much speed there, but as a power-hitting third baseman, that's not a big deal.
The 17-year-old has yet to play in the Red Sox organization and is extremely far from the Majors. That being said, he should be fun to watch grow.
Flores is a shortstop who kind of reminds me of Deven Marrero when he first became a Boston prospect. It's actually kind of uncanny.
He's known mostly for his glove but can contribute in other ways.
More from Red Sox Prospects
The 17-year-old is a plus-defender with an above-average arm. He doesn't have great speed, but can still steal a few bases. Meanwhile, his right-handed bat should hit for contact, and he could develop a bit of pop as well.
Basically, exactly how Marrero was regarded when he first joined the Red Sox organization.
Just like Diaz, Flores has yet to play in any of Boston's affiliates. He's still not anywhere near the Majors as well. However, the defense of Flores will make him intriguing immediately. That's something that will help him contribute at any level, no matter the bat. Therefore, watching how his bat develops will be interesting.
Losing Daniel Flores was undoubtedly miserable. Forgetting baseball for a minute, 17 years isn't enough time on this earth. By all accounts, he was a wonderful young man and someone that everyone loved. Due to that, it's no surprise his passing forged a shadow over his fellow International signees.
Next: Red Sox Prospect Watch: Strong early impressions made
Danny Diaz and Antoni Flores might not be regarded as on the same tier as Daniel Flores when it comes to prospect status. Fans of the Boston Red Sox should still learn their names and get excited though because they could have massive futures.