Red Sox: Eduardo Rodriguez to return Sunday, per report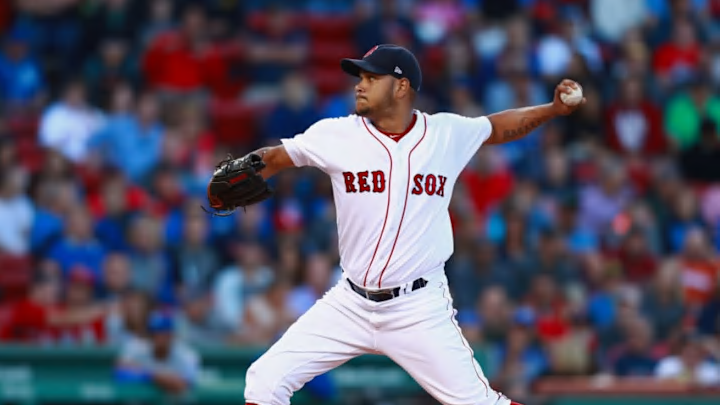 BOSTON, MA - JULY 29: Eduardo Rodriguez /
The lefty is set for his return on Sunday.
The Red Sox have had stellar starting pitching to begin the 2018 season. Now, they'll add another reinforcement to the starting rotation, with Eduardo Rodriguez set to make his 2018 debut on Sunday, per WEEI's Ryan Hannable.
Rodriguez will be activated off the 10-day disabled list after recovering from offseason knee surgery. The surgery took place in October, when he underwent a right knee patellofemoral ligament reconstruction. Rodriguez's timetable was initially uncertain, but he made enough progress throughout spring training that sped up his recovery time.
After a couple of simulated games from the mound, Rodriguez threw six scoreless innings in a minor league game earlier this week in Fort Myers, with a clean bill of health.
According to Hannable, manager Alex Cora has no concerns placing Rodriguez back in the rotation without being battle tested.
"Cora said there were no concerns about him pitching in a major league game without any spring training starts or pitching in a game with a minor league affiliate."
This comes as a bit of a surprise, as Rodriguez was originally diagnosed to be out until May. Now that E-Rod will be back on Sunday, it'll be interesting to see how the young lefty's first start of the season goes, as every start by a Red Sox pitcher has been stellar thus far.
This is a big season for Rodriguez. The Red Sox remain very hopeful and optimistic about the 24-year-old's ceiling can be as a starter. Additionally, Rodriguez is looking to put together a full season of consistency and health, as his career has been a roller coaster ride.
He had a 4.19 ERA in 24 starts last season.
In order to add Rodriguez to the active roster, the Red Sox must make a roster move. Marcus Walden is likely to be optioned to Triple-A, but who is left as the odd man out once Drew Pomeranz returns?
Brian Johnson is out of minor league options, and only allowed one run through six innings against the Marlins.
Hector Velazquez pitched a great game in his debut in Tampa, going 5 2/3 innings, with one earned run and five strikeouts. But was it good enough to keep a roster spot?
He also tossed a scoreless inning as a reliever in yesterday's game, despite originally being scheduled to start Sunday. Perhaps that indicates he's the likely candidate to get sent to Pawtucket? Through 6 2/3 innings, he has a 1.35 ERA.
Bobby Poyner is the only lefty in the Red Sox bullpen and looked sharp in yesterday's outing. It seems highly unlikely that he'll be the one sent to Triple-A. He holds a 1.93 ERA through 4 2/3 innings of relief.
Next: Red Sox: Hanley Ramirez's hot start should remind fans of his vesting option
Regardless of what the Red Sox decide to do, it's a tough decision moving forward. Without getting carried away with results against the Rays and Marlins — two borderline minor league teams — the Red Sox must have a plan in place for both Velazquez and Johnson. Both have pitched well enough to be on a major league roster.