Red Sox pitchers on the fringe of making 2018 Opening Day roster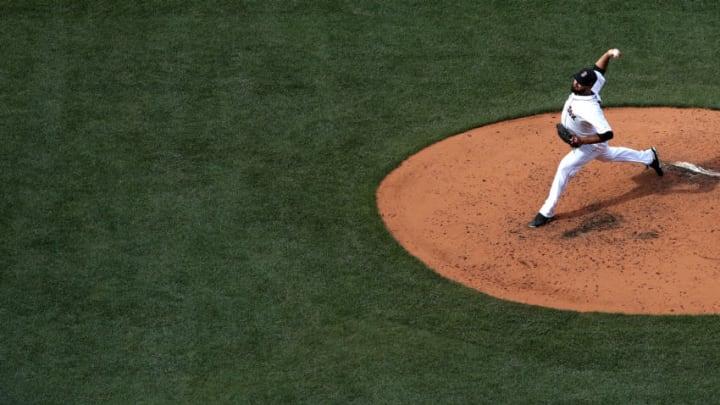 BOSTON, MA - SEPTEMBER 14: Brandon Workman /
PHILADELPHIA, PA – JUNE 14: Starting pitcher Brian Johnson (Photo by Hunter Martin/Getty Images) /
BRIAN JOHNSON; LEFT-HANDED STARTER
2017 in MLB: 2-0, 4.33 ERA, 27 IP, 21/8 K/BB Ratio, 1.48 WHIP, .283 BAA
2017 in AAA: 3-4, 3.09 ERA, 90.1 IP, 70/28 K/BB Ratio, 1.22 WHIP, .240 BAA
The southpaw made his return to Major League Baseball in 2017, albeit for a shorter time than he probably would've liked.
After battling anxiety that forced him to take a step back in 2016, Johnson finally showed spurts of the pitcher the Red Sox thought they were getting. In particular, his second start against Seattle stands out – a complete game, five-hit shutout in June. Everything appeared to be looking good for the big lefty, until a series of throwing-shoulder injuries threw him off course, derailing his first real stay in Boston.
Johnson pitched well in Pawtucket too, after the Red Sox demoted him for good in July. The southpaw saw a return to form, striking out batters at a high clip. He also saw his first minor-league season where a high volume of innings did not mean a high volume of walks, keeping his walk total below 30 for the first time in his career (min. 70 IP.)
The former 2012 1st-round pick out of Florida (a teammate of the previously mentioned Maddox,) should see a good situation in front of him, at the cost of a teammate no less. Eduardo Rodriguez underwent off-season knee surgery, and is not expected back for a long time. Johnson could be the perfect candidate to fill that role: a lefty whose performance last season merited a full-time call up. That's not to say the Red Sox will just hand Johsnson the No.5 starters job. He'll have to earn it in camp.
And even if they do just hand the job to Steven Wright, they need a long reliever/spot starter, right?
VERDICT: Starts 2018 in MLB