Red Sox pitchers on the fringe of making 2018 Opening Day roster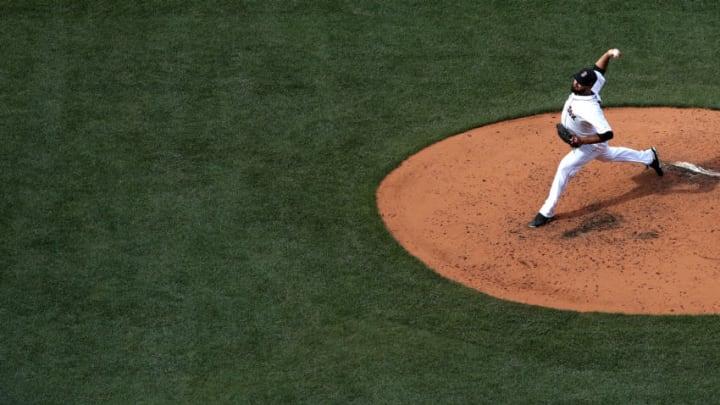 BOSTON, MA - SEPTEMBER 14: Brandon Workman /
BOSTON, MA – APRIL 12: Steven Wright (Photo by Adam Glanzman/Getty Images) /
STEVEN WRIGHT; RIGHT HANDED STARTER
2017 in MLB: 1-3, 8.25 ERA, 24 IP, 13/5 K/BB Ratio, 1.88 WHIP, .377 BAA
Much like Marco Hernandez, I completely forgot there even was a 2017 for Steven Wright.
Wright pitched to extremely poor numbers in 2017, despite his unforeseen success in 2016. In 24 IP, the knuckleballer allowed 9 homers to opposing hitters, nearly matching his 2016 total in a fraction of the time (12 HR in 156.2 IP in 2016.) Injury seemed to be the reason for under-performance, and in May Wright was placed on the 10-day DL for a strain in his left knee. That knee required season-ending surgery, and Wright was subsequently moved to the 60-day DL.
It's easy to write off 2017 as a bump in the road for Wright. Hell, he was the Red Sox No.2 starter behind Price in 2016. There has to be SOMETHING left, right? The simple answer to that question is "yeah, sure." The complex answer is that his success is extremely difficult to project. Regardless of past performance, the nature of the knuckleball pitcher is the same as the nature of the pitch they throw. He could return to form and pitch like he did in 2016. Or he could start 32 games, and every one of them could be that one game Tim Wakefield gave up 6 home runs but still came away with a win. You just don't know what you're getting from a knuckleballer.
But, if Wright can pitch well in camp, he will be the No.5 starter on Opening Day. Which is good, because he's a lot of fun to watch.
VERDICT: Starts 2018 in MLB