Red Sox: Sex Abuse Victims Demand Acknowledgement and Atonement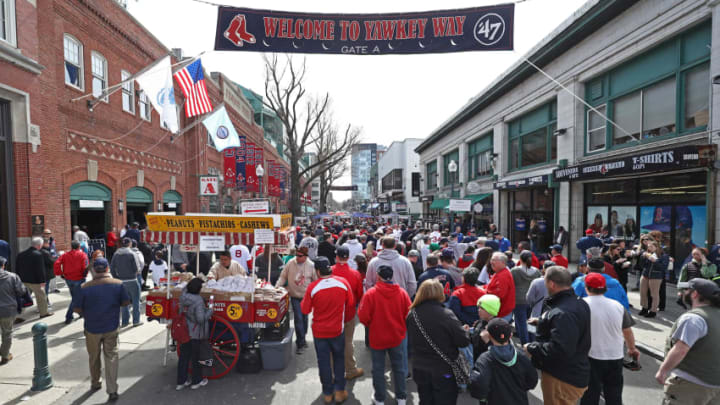 BOSTON, MA - APRIL 3: Fans walk down Yawkey Way before the opening day game between the Boston Red Sox and the Pittsburgh Pirates at Fenway Park on April 3, 2017 in Boston, Massachusetts. (Photo by Maddie Meyer/Getty Images) /
Multiple victims of past abuse have spoken out against the Red Sox organization's ignorance of the sexual crimes under Tom Yawkey's supervision.
A former equipment and clubhouse manager for the Boston Red Sox sexually abused a group of men for decades. That group is now speaking out and demanding that the Red Sox organization acknowledge and atone for the abuse as they have acknowledged and moved to try and resolve the racist past of Tom Yawkey.
Donald Fitzpatrick was the equipment and clubhouse manager who molested a group of 21 young men as they all worked under Tom Yawkey's supervision. The organization is changing the name of "Yawkey Way" because of the racist ties Yawkey had. However, what about the sexual abuse ties?
"How could he continue for years? It had to be something or someone who was helping him cover this up," said Gerald Armstrong, who was molested by Donald Fitzpatrick at the age of 11-years-old. Armstrong was an employee of the Kansas City Athletics at the time and was in contact with Fitzpatrick when the Red Sox came to town.
More from Red Sox News
Armstrong is one of 21 men who have claims against Fitzpatrick stating that he molested them as youths while working for baseball teams. Charles Crawford, who's claim arises out of abuse in 1991 in Fenway Park, said the proposal by Red Sox owner John Henry to rename Yawkey Way because of the racist issues provide no comfort to the men who were abused.
"I was kind of offended, it was a slap in the face," Crawford said. "I saw him on TV, so concerned about the team's image. What about me?"
Fitzpatrick admitted to sexually abusing children and plead guilty to four counts of attempted sexual battery. He died in 2005 and authorities have stated that Fitzpatrick had victimized at least nine others, however, the statute of limitations had run out.
"The Red Sox have done great things with Boston Strong, with the Jimmy Fund, where are they now?" said Mitchell Garabedian, an attorney for the victims. "It's as though they've shirked all social responsibility."
A Red Sox spokeswoman, Zineb Curran, responded to the demands:
""The Red Sox have always viewed the actions — which date back as long as six decades ago — of Mr. Fitzpatrick to be abhorrent. When the team, under prior ownership, became aware of the allegations against Mr. Fitzpatrick in 1991, he was promptly relieved of his duties.""
Next: Who Won't Make the PostSeason Roster?
Is that enough? Is simply relieving Fitzpatrick of his duties at the time enough of a reconciliation by Boston's organization and ownership? The victims don't think so and while the choice to change Yawkey Way because of the racist ties is proper, there are more factors and issues here that deserve discussion.